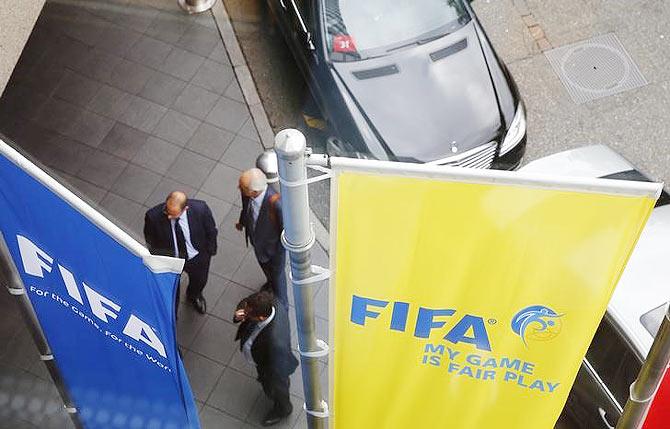 FIFA flags are pictured outside the Marritot hotel, where a meeting of the Confederation of African Football (CAF) was held in Zurich, Switzerland, on Wednesday. Photograph: Arnd Wiegmann/Reuters
Swiss authorities have opened criminal proceedings against individuals on suspicion of mismanagement and money laundering related to the allocation of the 2018 and 2022 FIFA soccer World Cups in Russia and Qatar.
Switzerland's Office of the Attorney General (OAG) also said in a statement on Wednesday it had seized data and documents stored in computer systems at FIFA.
The OAG said the criminal proceedings, which were opened on March 10, are separate to a US criminal investigation into the allocation of media, marketing and sponsorship rights for soccer tournaments.
Several high-ranking soccer officials, including two vice-presidents of world governing body FIFA, were arrested by Swiss police on Wednesday and detained pending extradition to the United States.
The OAG suspects that irregularities occurred in the allocation of the FIFA World Cups of 2018 and 2022, which were awarded to Russia and Qatar respectively.
It said the offences were suspected to have taken place at least partly in Switzerland, where FIFA has its headquarters, and that there are suspicions of money laundering through Swiss bank accounts.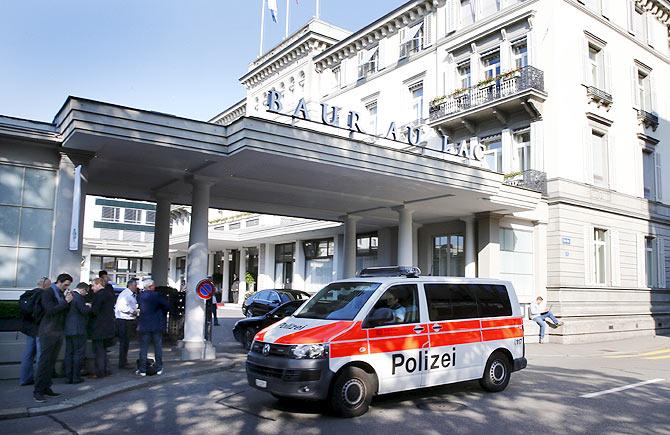 A police van drives past the Baur au Lac hotel in Zurich, Switzerland on Wednesday. Photograph: Arnd Wiegmann/Reuters
Subsequent to the seizure of files, the OAG and Swiss police will question 10 people who took part in voting on the hosting rights for the 2018 and 2022 World Cups as members of the Executive Committee in 2010.
An OAG spokesman said FIFA president Sepp Blatter and UEFA president Michel Platini are not among the 10 people, but did not rule out looking to speak with them at a later date.
None of the 10 people have been charged, the spokesman said, adding that the OAG's investigation is currently focused on unknown people. FIFA is not the target of its investigation at the moment.
The OAG chose to make the announcement the same day as the U.S.-led arrests in part because most of the people of interest are in Switzerland at the moment.
Under Swiss law, criminal mismanagement and money laundering can each carry penalties of up to 5 years in prison.
A spokeswoman for FIFA declined to comment.