Serena Williams with Caroline Wozniacki. Photograph: Instagram
The locker room atmosphere among female tennis stars is anything but a Mean Girls like situation as a clique of world class women players gather together more frequently these days at tournaments across the world.
Caroline Wozniacki's bikini-filled Bahamas vacation
So, is everyone friends? Well, it depends on who you ask.
In their latest public display of friendship, world number one Serena Williams and Caroline Wozniacki posted a photo of getting their nails done before the Australian Open.
And the friendship, in a sport that is better known for its rivalries, has prompted discussion among players on what it's like in the locker room and behind-the-scenes with top women's tennis stars, the BBC reported.
Serena, who is known for having some of the highest-profile rivalries on the tour, claims that the mood has changed since she joined the professional ranks way back in the 90s. She insists that it's like a big family now.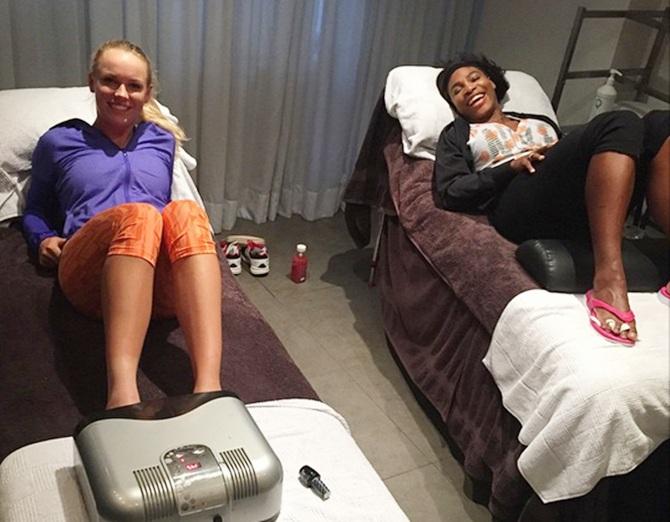 Serena Williams and Caroline Wozniacki gettign their nails done. Photograph: Instagram
Serena, who at 33 is pushing for her 19th Grand Slam title and shows no sign of easing her dominance, claimed that she tried to copy her idols Steffi Graf and Monica Seles, who never spoke, when she was young, but claimed that it is different now as people travel 10, 11 months of the year together, so they just know everyone.
The former number one-player Wozniacki, who exited in the second round of this year's Australian Open, shared the picture of herself and Serena getting pedicures the weekend before the tournament started.
Wozniacki later said that whenever one is on court, they just want to win, even it's a friend, adding that it doesn't matter who is on the other side.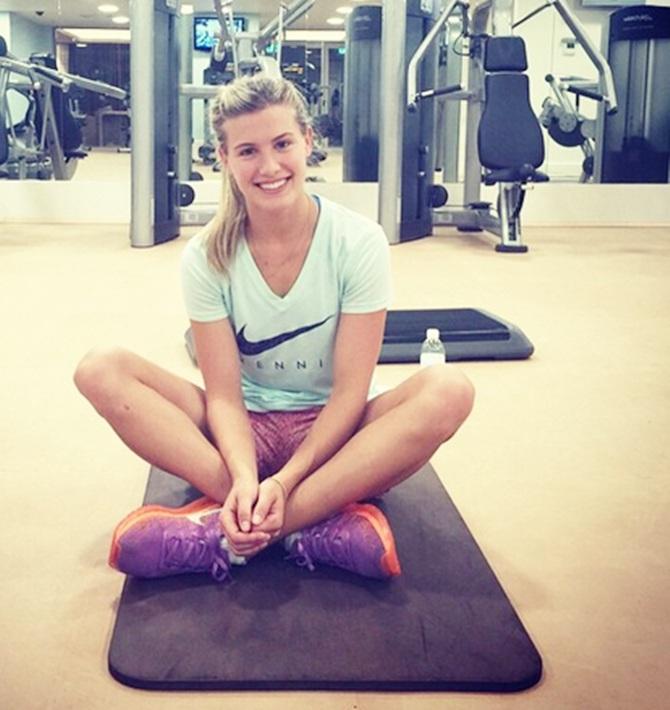 Eugenie Bouchard sits in a gym. Photograph: Instagram
Number seven-ranked Eugenie Bouchard, who prefers to keep competitors at a distance, claimed that she doesn't want to become really good friends with any of the girls on the tour, adding that she goes there, does her job, and leave. She insists that that is the best way for her to stay focused and not really have distractions.
Bouchard claims that people imagine it's a 'Mean Girls' like situation in the locker room, but the Canadian insisted it is not like the Hollywood's take on a mean-spirited high school clique. She said that it's pretty chill, pretty relaxed, and they are all friendly and talking to each other.
Victoria Azarenka, right, with Eugenie Bouchard, left, and Ana Ivanovic. Photograph: Instagram
Meanwhile, two-time champion Victoria Azarenka claims that her perspective has changed over the years, and she wants to get to know more players. She said that not that she wasn't friendly, but added that it's nice to get to know girls
Azarenka insisted that on the court there are no friends, unless there are umpires one tries to be nicer to, but off the court, she insisted that would like to make an effort and build friendships.