Roger Federer's straight sets demolition of Romanian Victor Hanescu on Thursday served a timely reminder to the men who would be king that on centre court he still rules supreme.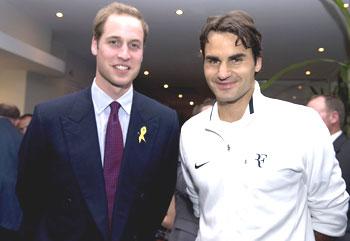 Federer's patchy form in the lead-up to the Australian Open had given fresh hope to his rivals while a shaky first-round victory over Igor Andreev on Tuesday did little to silence talk of new dynasties.
But in front of Prince William and a large audience at the Rod Laver Arena, the World No 1 turned in a majestic performance.
"He was happy he could make it," Federer said of the prince, whose appearance in the stadium drew loud cheers from spectators.
"I think he's had a very busy schedule the last few days. He shook a lot of hands, and I knew mine was one more."
The 15-times Grand Slam champion seemed in a hurry to despatch the hapless Hanescu, who suffered the full brunt of his opponent's return to form.
Federer needed only an hour and 39 minutes to advance to the third round with 52 winners.
A quick post-match chat with Prince William prompted other questions about Federer's royal exchanges.
Had he met other royal family members at Wimbledon, asked one journalist?
"Well, the ones on court at the trophy ceremony," he quipped. "Do those count for you, or not? Chatty-wise, no, I don't recall. English breakfast tea? No, not yet."
Federer next plays Albert Montanes, a man he has beaten on both previous meetings.
Rafa Nadal, the man who beat him last year for the title and dethroned him from the number one ranking for a time, may yet lie in wait in the final.
"He struggled lately against the top 10 players from what I've heard," said Federer "Still, he's not the type of guy that anyone in the top 10 wants to play against."
Federer, who worked hard to wrest the top ranking back from Nadal last year, said he wished his reign to last forever, and would not be deposed lightly.
"It's something that you just hope it's gonna last as long as possible," he said. "If you lose your ranking, you hope to get it back."