With colours resembling famous candies and lolly brands, Nike splashed bright hues to drive sales to younger fans, while leaving Twitter amused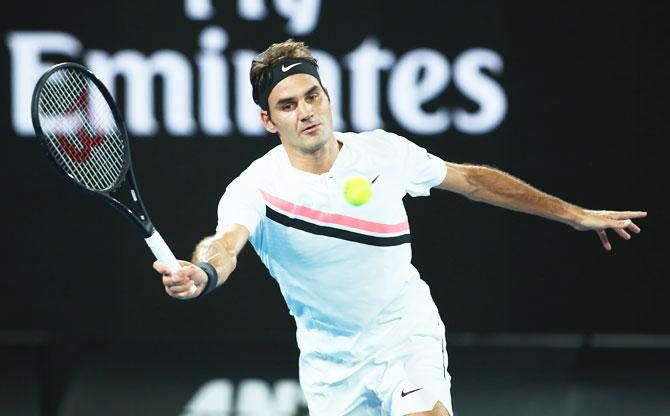 IMAGE: Roger Federer. Photograph: Clive Brunskill/Getty Images
As Bulgaria's Grigor Dimitrov and Andrey Rublev of Russia battled on the blue courts at Rod Laver Arena on Friday, it was Nike's court Melbourne collection that most stood out.
The sporting giant's players have been geared up in striking combinations of black, white and salmon for this year's Australian Open, to titters of amusement on social media across the first week of the first grand slam of the year.
"'Licorice Allsort' appears to be the inspiration behind the @Nike tennis apparel this summer. Who wore it better? #Federer #Dimitrov," Twitter user Daniel Higgins said.
Rublev, 20, among other young guns Kyle Edmund of Britain and Australia's Nick Kyrgios, also 22, all sported the same bold salmon and black-blocked shirt, as Nike splashed bright colours to drive sales to younger fans.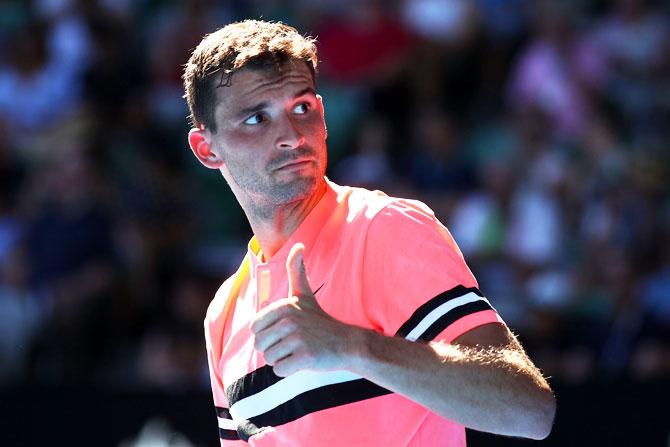 IMAGE: Bulgaria's Grigor Dimitrov. Photograph: Cameron Spencer/Getty Images
It was a scaled down affair for tennis royalty of white with pink accents -- defending champion Roger Federer in a white polo shirt with a pink-and-black "sash" and Rafael Nadal, a white tank top with pink wristbands.
But there was no contest for best confectionary lookalike. World No 3 Dimitrov, in a salmon top with black borders to a white stripe across his chest, stirred comparisons to the pink sweet with a liquorice layered white centre, in a trope coined by former world number one Andy Murray's mum.
"Sweet (#pun intended)," tweeted Judy Murray, against a picture of Dimitrov and a bag of liquorice allsorts. Murray, in town for the tournament, withdrew due to an ongoing hip injury.
"The challenge of designing for a quick impression is creating a simple, but instantly recognisable and bold design," Sam Shipley, Apparel Design Director for NikeCourt, said.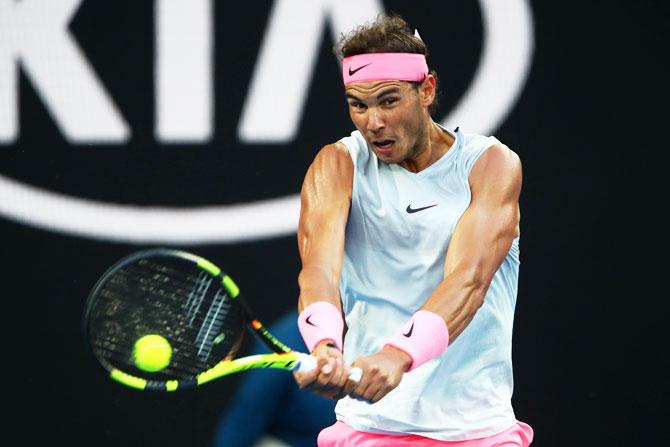 IMAGE: Rafael Nadal. Photograph: Clive Brunskill/Getty Images
"We worked closely with the colour team on finding the best shades for the most impactful read off the incredible blue courts. We wanted something that vibrates when you see it on screen," he said in a statement.
"We talked a lot about driving energy through confidence in pink...We thought, 'If this design was in all pink, would it still be aggressive?' We're holding ourselves to that test!"
It's not unusual for major brands to come under fire for fashion faux pas at sporting events. Adidas may have got more "pop" than it bargained for after dressing its players in zebra stripes at Paris in 2015 as it sought contrast with the deep red clay courts of Roland Garros.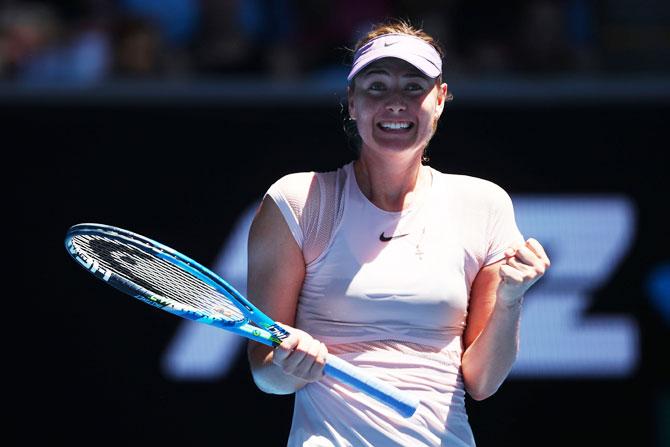 IMAGE: Maria Sharapova. Photograph: Clive Brunskill/Getty Images
Nike's sponsored women got off more lightly, with soft blushes and a subtle swoosh, led by Maria Sharapova on her return to the circuit after a 15-month doping suspension.
Director David Harakos of Sydney-based confectioner The Professors, said that he hoped MelbournePark's publicity would be good for sales.
"If people are looking at the Nike outfits and getting hungry then we hope they will move their eyes away from the tennis balls and look at our online shop," he told Reuters.
"Most of our marketing spend we do tends to be electronic. But that could change. If Tennis Australia or anyone as part of the Australian Open sees interest in partnering with us then we'd be delighted."