After two consecutive losses, the Indian team finally tasted success in Fed Cup as it outplayed Uzbekistan 3-0 in Pool A with Ankita Raina winning both her singles and doubles matches, in Hua Hin, Thailand, on Friday.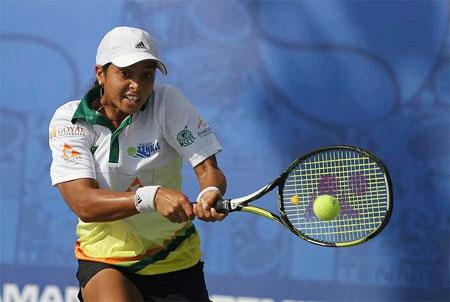 Prerna Bhambri provided a solid start with a 6-1, 6-1 win over Sabina Sharipova in just 57 minutes as India took a 1-0 lead.
India's number one singles player, Ankita then sealed it for India with a 6-1, 6-0 win over Nigina Abduraimova in 59 minutes.
In the inconsequential doubles rubber, Ankita joined hands with World No 1 doubles player Sania Mirza to beat Akgul Amanmuradova and Arina Folts 6-2, 6-0 in a mere 48 minutes.
"I had a lot of energy in my singles match today. More than yesterday. I was aggressive and did not give her any chance. Even when I was a game-point down, I did not think of the score and continued being aggressive," Ankita, who had beaten world number 56 Nao Hibino on Thursday, said.
"And of course Prerna's win gave a lot of boost and I got pumped up. I had a different kind of energy and vibes today. I saw a different side of me."
Talking about her experience of playing with Sania for the first time, Ankita said, "When you have world number one, you need not worry.
"I was very motivated and excited and I could see it in my game," she said.
India, coached by Zeeahan Ali, had lost ties against hosts Thailand and Japan and will now try to win positional play-off against Kazakhstan for fifth-sixth place finish.
Image: Ankita Raina
Photograph: Ankita Raina/Twitter