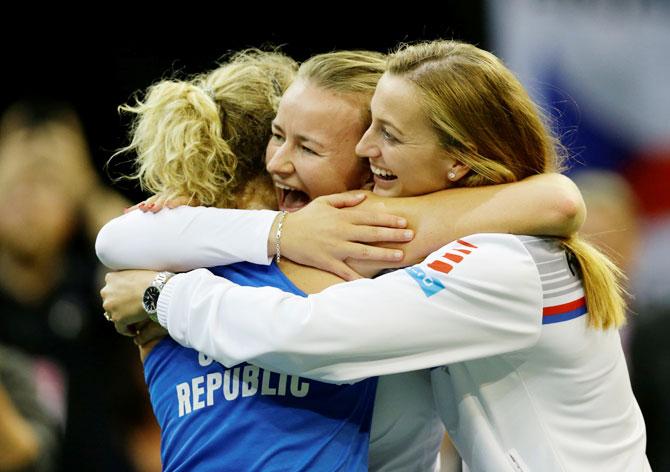 The Czech Republic won their sixth Fed Cup title in eight years on Sunday as world doubles number one Katerina Siniakova outlasted American Sofia Kenin 7-5, 5-7, 7-5 in front of a boisterous, sold-out home crowd.
In an exciting back-and-forth rubber lasting three hours 45 minutes, Siniakova held off the 19-year-old Fed Cup debutante to give the Czechs a 3-0 win in the final against a United States team who were the defending champions but were missing their top players.
Despite also losing their two best players just before the final, the Czechs proved their dominance in the women's team tournament this decade, leaning on the hustle of Siniakova.
"It was an unbelievable match for me. It was up and down, nerves," the 22-year-old Siniakova said on the court after the marathon match that was just short of the longest rubber –- at four hours flat –- in Fed Cup history.
"I am just terribly happy I won."
Siniakova, who won the French Open and Wimbledon doubles titles with her Czech teammate Barbora Krejcikova this season, proved too much in the end for the Russian-born Kenin, who cried after the match and was consoled by her team mates.
With the Czechs an unassailable 3-0 up in the best-of-five final, the second reverse singles and the doubles were cancelled.
The competition's two most successful nations were meeting in a Fed Cup final for the first time in more than three decades.
The US team, though, fielded three Fed Cup newcomers, including Kenin, as they were without Serena and Venus Williams, holders of a combined 30 grand slam singles titles, along with world number six Sloane Stephens and Madison Keys, semi-finalist at both Roland Garros and Flushing Meadows.
On the Czech side, world number eight Karolina Pliskova pulled out with injury and twice Wimbledon champion Petra Kvitova could only cheer from the bench after fighting illness this week.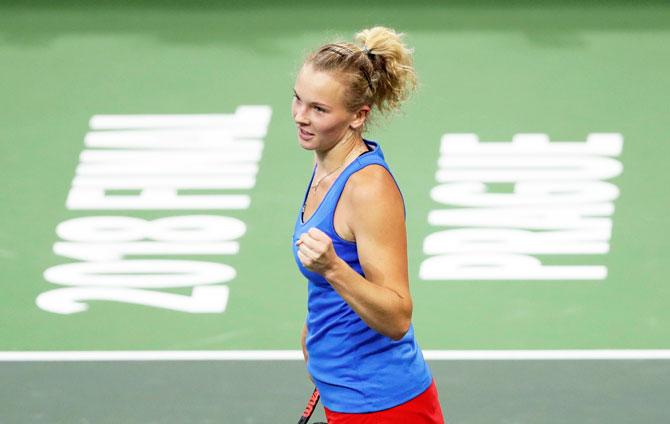 On Saturday, world doubles No 1 Katerina Siniakova and veteran Barbora Strycova powered the Czech Republic to the verge of another Fed Cup title in the final against defending champions the United States on Saturday.
Their opening day victories ensured the Czech team will take a 2-0 lead into Sunday as they seek a sixth Fed Cup triumph since 2011 against the only the country to have won more titles.
The two most successful teams in the tournament's history were facing off without their top players.
Americans Serena and Venus Williams, Madison Keys and Sloane Stephens were all unavailable while, for the Czechs, world number eight Karolina Pliskova pulled out with injury and Petra Kvitova was sidelined on the first day with illness.
That left the responsibility to Siniakova, who defeated Alison Riske 6-3, 7-6 (2), and veteran Barbora Strycova, who beat Fed Cup debutant Sofia Kenin 6-7 (5), 6-1, 6-4 in the opening rubber.
"I was trying... when I had a chance to be aggressive," said Siniakova, who won the French Open and Wimbledon doubles titles this season with her Czech teammate Barbora Krejcikova.
It was the ideal start for the Czechs, winners of five of the last seven Fed Cup titles and unbeaten in 10 home ties since 2009.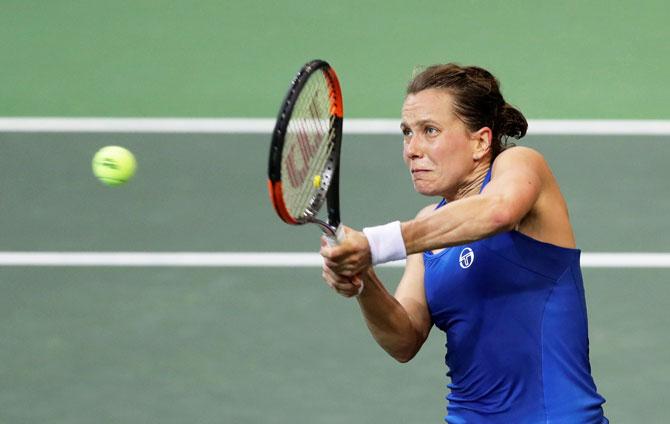 They remain heavy favourites, even without their leading duo, against a US team featuring three debutants, including Kenin.
The veteran Strycova, playing in her final tie for the Czechs after a 16-year Fed Cup career, gave up the first set to the 19-year-old Kenin, who fought through early nerves in her first taste of Fed Cup action.
But the 32-year-old Strycova called on all her experience, bringing the home crowd back into the match by racing ahead 3-0 in the second set and securing the set four games later with a big serve that Kenin returned high and long.
"It is funny because it is her first (Fed Cup tie) and it is my last one," Strycova said.
"For me, it was a lot of emotions. I fought for every ball, and I'm so happy I could win today in front of this crowd. It means a lot to me.
"In the second set, I started to move much better and I also served much better."
Strycova carried the momentum into the third and withstood a late challenge from the American for a resilient victory -- the first time in her distinguished Fed Cup career that she had fought back from a set down to win a singles rubber.
In the second match, Siniakova cruised in the first set but fell behind in the second before pulling level at 3-3. Riske pushed the set to a tiebreak, where Siniakova took control.
US captain Kathy Rinaldi said it was a day of missed opportunities for her squad.
"Anything can happen in Fed Cup and tomorrow is another day," she said.