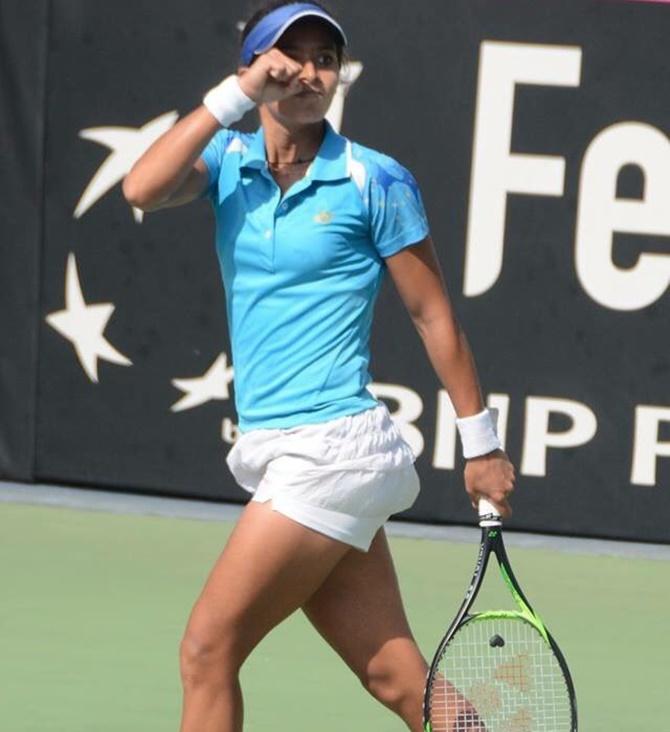 IMAGE: Ankita Raina celebrates. Photograph: Ankita Raina/Twitter
Ankita Raina prevailed over her rival in a long-drawn dog-fight after Karman Kaur Thandi's impressive win as India retained their place in the Asia/Oceania Group I in the Fed Cup after beating Chinese Taipei 2-0 in the relegation Play-off in New Delhi on Saturday.
Rising to the occasion, Karman produced a 7-6(4), 6-3 win over a crafty Lee Pei-Chi to hand India a 1-0 lead in the do-or-die tie.
Ankita, who had played some incredible matches against higher-ranked rivals, then ran into a wily left-hander Chieh-Yu Hsu, who is ranked at a humble 377 but forced Ankita to play out of her skin.
Eventually, after an energy-sapping two hour and 54 minutes, Ankita emerged a 6-4, 5-7, 6-1 winner to ensure that India remain in the Group I.
Japan qualified for the World Group Play-off after beating Kazakhstan 2-1. Both Japan and Kazakhstan had remained unbeaten in their Pools.
Ankita, playing the tennis of her life, remained unbeaten in her singles matches in the competition, winning all her four matches.
Running into an opponent who, being a left-hander, fed Ankita a lot of angled balls to her backhand, the Indian girl had to re-work strategy as she was unable to hit the balls deep.
It was a strategy which had paid her good dividends in previous matches but playing on a slower court made her job tough as hitting the ball hard was never enough.
Earlier, Lee not only struck the balls hard and clean but also was very crafty. She stayed in control of the points on her serve, making it hard for the local girl. In the entire match, it never looked like Lee is a player ranked outside 450 Karman, ranked 284, played much better than her previous matches but her game kept going up and down. She served well on the slower show court and perhaps had her best serving day of the competition.
Her serve came good on crucial points, which was a key factor in her big win today. She also played bigger points much better than previous days.