Fauja Singh, the world's oldest runner at 101 years of age, is participating in the 10th Standard Chartered Mumbai Marathon on Sunday in what could be his first and last appearance in the city.
Singh, who lives in London, will run the 4.3 km event for senior citizens.
Singh, who will turn 102 in April, said he will retire after the Hong Kong Marathon of February 24.
"I am enjoying it. The adulation keeps me motivated," he said in Mumbai on Friday.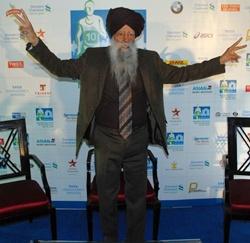 Known as 'Turbaned Tornado', Singh took up the sport when he was in his eighties after moving to London.
"Every bit of money that has been raised is for charity. Whether marathons or local religious tournaments, all the raised funds will go to charity. This is what has kept me blessed and healthy.
"My son, who lives in England, has been my source of inspiration. We were seeing a marathon once and I wondered why the people were running aimlessly....
"I decided to run my first 20 kms in the London Marathon in 1992 under the training of my coach Harmander Singh. Today, I view life differently," he added.
Meanwhile, London Olympian Ram Singh Yadav, the top finisher among Indian men last year, is skipping the event because of professional commitments with his employers, the Indian Army.
"Ram Singh Yadav was among 13 London Olympians who were felicitated at the Army Day function on January 15 in Delhi. He had been called ten days earlier for the function and there was a disbalance in his training for the Mumbai Marathon for which he was training since November," said Indian Army coach, K S Mathew.
Yadav had qualified for the London Games by finishing as the top Indian male in the 2012 Mumbai Marathon with a personal best time of 2 hours 16 minutes and 59 seconds, but came a cropper at the Olympics, where he finished a distant 78th, out of 105 starters, clocking a poor 2:30:06s.
"Yadav, Satyaprakash and K C Ramu are all part of the Services team which will take part in the national marathon at Delhi on February 17," Mathew informed.
The absence of the 32-year-old Varanasi-born Yadav -- who was overall 12th in the race in 2012 -- has made his army mate Elam Singh, the top Indian in 3,000m steeplechase, as the favourite among the home country's male runners and for the top prize of Rs 4.5 lakh.