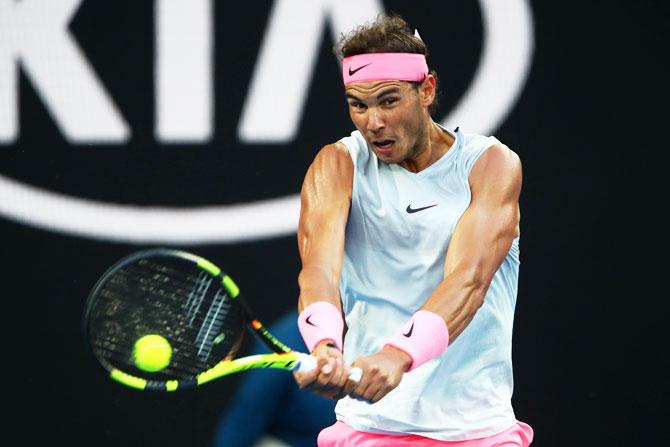 IMAGE: Top seed Rafael Nadal was seen at the Australian Open in a sleeveless tank-top after a decade. Photograph: Clive Brunskill/Getty Images
Trust our World No 1 Rafael Nadal to get hearts racing.
Wearing a sleeveless top, Nadal made his way to the court and later hammered Dominican Republic's Victor Guillermo Burgos 6-1, 6-1, 6-1 to win his opening round match at the Australian Open on Monday.
Last season he had us in a trance after he rolled back the years, winning two grand slams, and this time, he has left us swooning by going back in time with that sleeveless look.
Who can forget that cute face that won his first ever Grand Slam – his favourite French Open in 2005? He stole our hearts with his game and his cool look -- the sleeveless tank-top, paired with capri-pirate pants.
He ditched that look later for the more 'proper' T-shirt and shorts, but now that the sleeveless top is back, fans are demanding the peddle-pushers come back too.
Fans literally broke Twitter, going gaga over Rafa's muscle-exposing sexy style.
"After 10 years, sleeveless Rafael Nadal is back at the #AusOpen" wrote Portuguese journo Jose Morgado on his Twitter handle and the replies made for an interesting thread.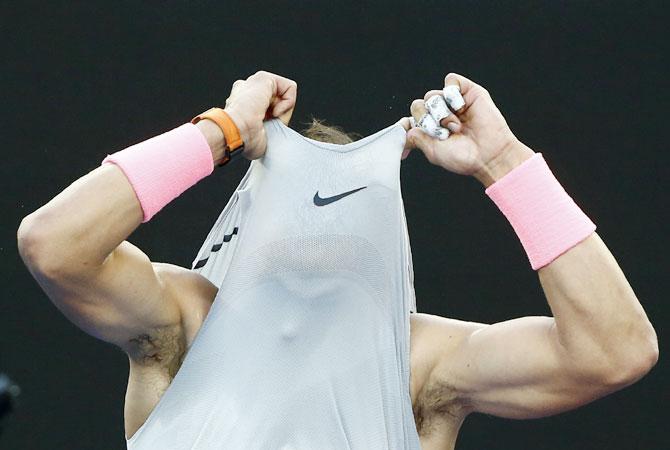 IMAGE: Spain's Rafael Nadal changes his shirt during his opening round match against Dominican Republic'S Victor Estrella Burgos at the Australian Open in Melbourne on Monday. Photograph: Thomas Peter/Reuters
"After 10 years he is still our SLEEVELESS GORGEOUS RAFA VAMOS RAFA ROCK IT RAFA," wrote one Christein @dieeiland.
"But will we ever see capri pants Rafa? #AusOpen, tweeted one Jase Shepherd
The pink pants also caught the fancy of a few and tweeted a thumping yes to the 'feminine' hue.
"I have never seen a man look so good in pink," tweeted one @AlwayzIfy.
Last year, one fan (Jeanne Young) used Twitter and started an online petition, demanding that Nike bring back the sleeveless top for Nadal.
Did Nike give it to that demand? We will never know, but we are just happy that we will get full view of Nadal's perfectly carved arms while he crushes opponents in style.