Tarasov's Putin tribute spells trouble for Lokomotiv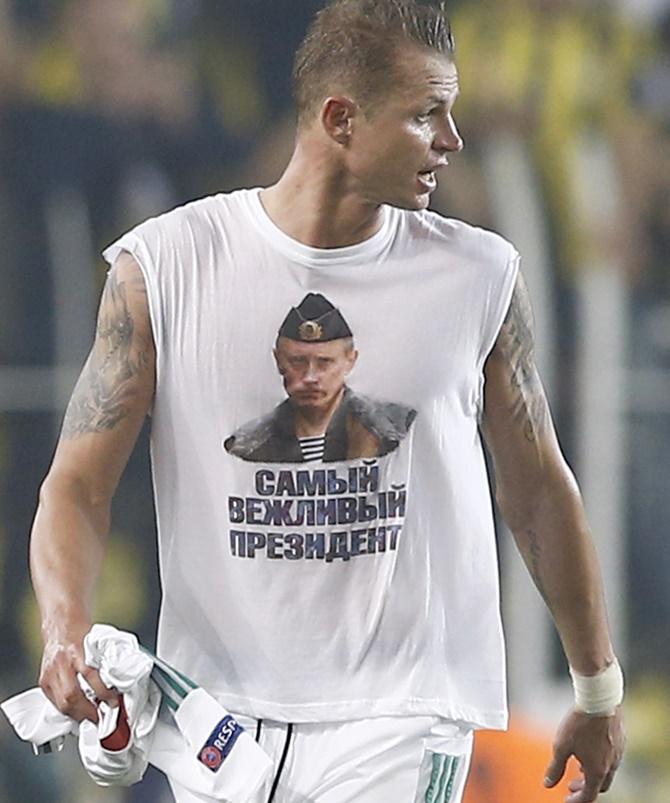 IMAGE: Lokomotiv Moscow's Dmitri Tarasov sports a t-shirt depicting Russian President Vladimir Putin leaves the pitch after the match. The sign reads, 'Most polite president'. Photograph: Murad Sezer/Reuters
Lokomotiv Moscow midfielder Dmitri Tarasov insists he acted alone when he wore a T-shirt praising Russian President Vladimir Putin, leaving the player and team facing an anxious wait over possible sanctions for Tuesday's incident in Turkey.
The 28-year-old Tarasov removed his team jersey at the end of a Europa League tie against local side Fenerbahce in Istanbul, revealing the portrait of Putin along with the words 'The most polite president'.
Diplomatic relations between Russia and Turkey soured after a Russian Su-24 was shot down by the Turkish Air Forces last November with Istanbul saying the warplane had violated its airspace, while Moscow dismissed the claims.
"This is my president. I respect him and decided to show that I am ready to support him where ever I am. I wrote on this T-shirt everything that I wanted to say," Tarasov said after his side had lost 2-0 in the first leg of the last 32 encounter.
"In this case there has been a breach of discipline and a clear provocation," leading Russian sports news agency R-Sport quoted a 'UEFA source' as telling them.
"Tarasov could be disqualified and I mean for a long time, a minimum of 10 matches. Lokomotiv football club could also be punished for allowing this to happen."
State Duma Deputy and member of the Russian Football Union's executive committee Igor Lebedev slammed Tarasov for his actions, sarcastically commenting that the player had given a "wonderful present" to his club, himself and his fans.
"You can only say thank you for such as stupid gesture," Lebedev told R-Sport.
"I respect him as a footballer but this kind of action is unforgivable for a person of this level. Patriotism is not shown on T-shirts or on pictures...
"A 3-0 victory against Fenerbahce would have been the highest level of patriotism and Tarasov would have been carried out of the stadium by the fans back to Moscow," he added.
UEFA has taken a very serious position against politically-motivated incidents at football matches in the past.
In July 2015, European football's governing body fined Barcelona 30,000 euros ($33,438) after their Champions League final victory over Juventus. The supporters displayed banners with calls for Catalonia to gain independence from Spain.
In 2013, UEFA fined Celtic 50,000 euros following a Champions League game against AC Milan when supporters of the Glasgow club unveiled a flag showing the image of Scottish national hero William Wallace and Irish Republican hunger striker Bobby Sands.