'I want to win a medal for the flood affected people of Kerala. That is what I can do as my contribution.'
Debutant long-jumper M Sreeshankar is now focused in a medal at the Asian Games.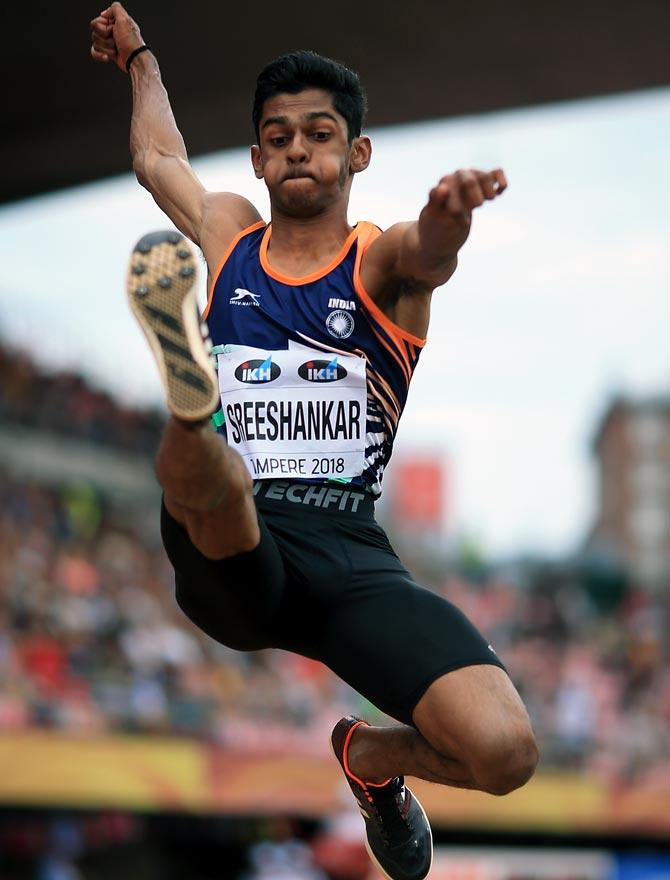 Asked to board the flight for the Asian Games despite some family members reportedly missing in the wake of the Kerala floods, debutant long-jumper M Sreeshankar said he can finally focus on the job at hand after his grandfather and uncle were traced.
The youngster was convinced to head to Jakarta by his resolute mother even though she had lost contact with her father at that point. Also missing were Sreeshankar's uncle and aunt.
The extended family is based in Rajakkad area of Idukki district, where communication links had snapped due to the floods.
"From July 31 to August 18, I trained at Thiruvananthapuram (at the long jump national camp) and on August 18 I left for Jakarta from Bangalore. Every day, I asked my parents on phone about my grandfather, maternal uncle's family and aunt's family. They could not be contacted for many days," said the 19-year-old from Jakarta on Monday.
"I was very tense before departure for the Asian Games. I did not know what to do. My mom told me everything will get better and things will be under control and I should go for the Asian Games and bring back a medal. After that I felt comfortable and left for the Asian Games," he added.
Sreeshankar is from the Palakkad district, one of the safest in Kerala, but Idukki, where his mother's parents and siblings live, had been cut off by landslides some 200km away. His father, S Murali, was an international triple jumper and his mother, K S Bijimol, was also an international 800m runner.
Sreeshankar's mother spoke to her above-80 father and her sister some days ago, ending his worries.
"Idduki is not that severely affected by flood but landslides cut off the area and there was no phone and internet connection. They are safe," Sreeshankar's father Murali said from Palakkad.
"Still, there is no rail or road connection to Idukki. All the roads are submerged or affected by landslides. So we cannot bring them here. We have to wait for the situation to get better," he added.
Sreeshankar said he is a bit relieved now that his parents were able to contact his grandfather and maternal uncle and aunt.
"I was all tense while reaching Jakarta yesterday. Now I can focus on my performance and hope to win a medal. It would be for the sufferings faced by the people of Kerala.
"If we win medals from the Asian Games, that may bring some smile on the face of the suffering people. That is what we can do," said Sreeshankar whose personal best is a 7.99m which during the Federation Cup in Patiala in March.
For Sreeshankar, this will be his first major international event. He was selected for the Gold Coast Commonwealth Games in April but had to undergo an appendicitis surgery and missed out.
The pre-Games ordeal might make him more determined but it will not be easy for Sreeshankar to finish on the podium in Jakarta. He is not among the top-five performers among the starters and will face competitors from China, Japan, Korea and Taipei, which have done better than him this season.
But Sreeshankar is not losing hope, more so after his mother's request to bring back a medal for the flood-affected people of Kerala.
"I know it will be tough to win a medal. But anything can happen on the day of event. I want to win a medal for the flood affected people of Kerala. That is what I can do as my contribution," said the youngster, who gave up an Engineering course to pursue a mathematics degree to nurture his athletics ambitions.
"Sree is in top form. I think he can win a medal in the Asian Games. We are praying for that," his father Murali said.
Long jump qualification round is scheduled for August 25 while the final will be next day.