Following are the four goal-line technology systems licensed by soccer's governing body FIFA.
GoalControl-4D
Selected by FIFA for use at this year's Confederations Cup tournament in Brazil, and if successful, at the 2014 World Cup in the same country.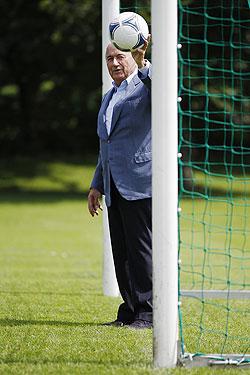 Developed by German company GoalControl GmbH, it uses 14 high speed cameras located around the pitch and focused on both goal mouths.
When the ball completely crosses the line a signal is sent to the referee's watch in less than a second.
Hawk-Eye
Selected by the Premier League on Thursday to be used for the 2013-14 season, making it the first domestic league to use goalline technology.
Technology developed by the British based company Hawk-Eye, owned by Japanese entertainment group Sony, is used in both tennis and cricket.
In football it involves the use of seven cameras behind each goal, and will also notify the referee of a ball crossing the line within a second.
It was trialled by FIFA at last year's Confederations Cup in Japan.
GoalRef
Made by German firm Fraunhofer, and was also trialled at last year's Confederations Cup tournament.
It uses balls with wire coils embedded underneath the cover and low magnetic waves around the goal.
The ball's position is relayed to the referee's vibrating watch in under a second.
Cairos
The German-made Cairos system uses magnetic fields set up around the goals to determine whether or not the ball, which contains a sensor that sends data to a computer, has crossed the line.
Photograph: Michael Buholzer / Reuters