The violent reality of Bahrain's political unrest moved closer to Formula One on Thursday when the Force India team said two of their staff had asked to go home after colleagues were caught up in a petrol bomb incident outside Manama.
A spokesman for the British-based team said one of those concerned is a team member, the other a contractor brought in for Sunday's race. Neither were directly involved in the incident on Wednesday evening.
He said four team members had been returning in their rental vehicle to their Manama hotel from the Sakhir circuit when they were caught up in the incident on the motorway.
The Bahrain International Circuit issued a statement referring to "an isolated incident involving a handful of illegal protester acting violently towards police.
"During this incident a Molotov Cocktail landed in the vicinity of their vehicle. After approximately two minutes, the route was cleared and the vehicle carried on its journey," it added.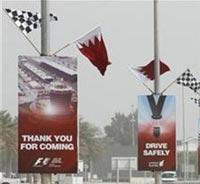 "There were no casualties and eyewitness reports from the scene confirmed that their vehicle had not been targeted itself."
The circuit said it has confidence in the authorities to deal with such incidents "and can confirm that all the usual precautions are being taken around the track to ensure the level of security is maintained".
Numerous anti-government protests took place in and around Manama on Wednesday evening, with more planned leading up to the race, including one near the circuit according to the US embassy. Police fired sound bombs to disperse the crowd.
Force India, whose drivers are Germany's Nico Hulkenberg and Britain's Paul Di Resta, said they had not been a target and nobody was hurt.
The MRS team entered in the supporting Porsche SuperCup series withdrew its entry from the weekend season-opener, citing safety reasons, without travelling to Bahrain.
"It is the first time in our team history that we have had to cancel a race of the Porsche SuperCup," team head Karsten Molitor told autosport.com. "In the end we have the responsibility for our employees."
Anti-government protesters are planning 'Days of Rage' ahead of a race that they want called off while security forces have rounded up dozens of activists in recent days in a clampdown on the opposition.
NO GUARANTEES
Bahrain has been in turmoil, with almost daily protests, since a democracy movement erupted last year after popular uprisings in Egypt and Tunisia.
Local authorities have said teams need not worry about their personal safety but John Yates, the former assistant commissioner of London's Metropolitan police who has been hired to oversee reform of Bahrain's police force, said there could be no guarantees.
"People say can we guarantee security. Of course we can't guarantee security. I'd be a fool to sit here and say that," he told the Guardian newspaper.
"I judge it more likely there will be protests on the route and around the villages. I just hope it's a good event and I hope it goes off without too much trouble."
Police maintained a low-key presence around the circuit on Thursday, although that was likely to be stepped up considerably closer to the event and in the evening when teams are returning to Manama.
Teams at the circuit were holding news conferences as usual, without any reference to the political situation and tension around them. Nothing in their race previews indicated the event was anything other than a normal round of the 20-race championship.
Formula One last visited Bahrain in 2010, with last year's race cancelled due to the protests, and the race is the biggest sporting event on the tiny Gulf island, with a global television audience of tens of millions.
Photograph: Hamad I Mohammed