This year's inaugural Korean Formula One Grand Prix, up in the air only weeks before the race due to construction delays, has won an award for best promoter of the season.
Red Bull's 23-year-old German Sebastian Vettel also finally got his hands on the championship winner's trophy at the same International Automobile Federation (FIA) awards ceremony in Monaco on Friday night.
The promoters' award was collected by Chung Yung-cho of the Korea Automobile Racing Association.
"I sincerely thank all of the people who helped to make the event such a success," he told the audience.
The race at Yeongam was in danger of being cancelled only weeks before its October 24 date and ended almost in the dark on the day after a long delay due to heavy rain.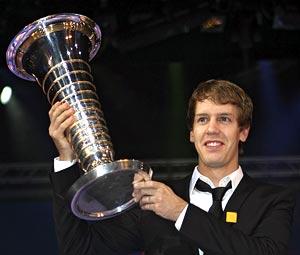 "Considering what it was and what they've had to do, and it's not been easy to do this event, I think they've done a good job," Formula One's commercial supremo Bernie Ecclestone said at the time.
"The award recognises the state-of-the-art Korean International Circuit," the FIA said in a statement.
FIA president Jean Todt handed Vettel, the sport's youngest ever champion, his trophy.
"This is an amazing evening for me and for the Red Bull Racing team," said the German driver. "I'm thrilled to be here to collect the Driver's Championship Trophy, something I have dreamt of since I started racing.
"Winning the championship is unbelievable; it marks an incredible season for us, with many ups and downs. We kept believing in our team, in our car and enjoyed every race."