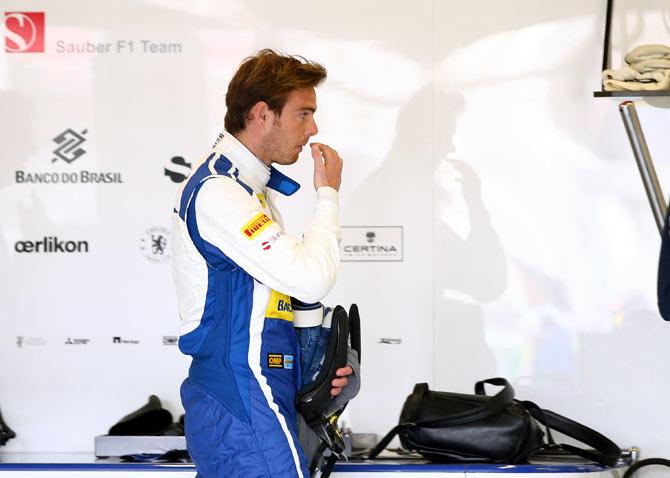 Giedo van der Garde of Sauber F1. Photograph: Mark Thompson/Getty Images
Dutch driver Giedo Van der Garde recognised his hopes of racing in Formula One are over on Wednesday after Sauber paid "significant compensation" to end a contract dispute.
- 2015 F1 season calendar

"We have reached a settlement with Sauber and my driver contract with the team has been ended by mutual consent. As a passionate race driver I feel sad and am very disappointed," he said in a statement.

The 29-year-old was Sauber's reserve last season and had a deal to race in 2015. However, the Swiss team signed Brazilian rookie Felipe Nasr and Sweden's Marcus Ericsson instead.

Van der Garde said he has always dreamed of becoming a top-notch driver but "I know my future in Formula One is probably over".

Legal action to enforce the contract culminated in a Melbourne court finding in his favour ahead of last weekend's season-opening Australian Grand Prix.

"My sponsors paid the sponsorship fee related to the 2015 season in its entirety to Sauber in the first half of 2014. This was simply in good faith and to help the team deal with its cash problems at the time," he said on Wednesday.

"Effectively it was my sponsor's advanced payments that helped the team survive in 2014...I am not at liberty to discuss details but Sauber paid significant compensation to avoid honouring the contract they had with me."

Although he won the legal argument he dropped a contempt action pending further talks when it became apparent team principal Monisha Kaltenborn was determined not to let him race.

"To push on against this determination might have brought down the team, it would most certainly have wrecked the opening Grand Prix in Melbourne because the team's cars would have been seized by the court," said Van der Garde.

"It may have ruined the careers of two young drivers...possibly the team's directors would even be taken into custody. I decided I did not want to live with that idea."

He thanked other drivers for their support and hoped his actions would change attitudes.

"I sincerely hope that what has happened to me will start a movement aimed at setting new standards and bringing about new regulations to help protect the rights of drivers," said Van der Garde.

"There are numerous examples of talented drivers with good intentions, but without the sort of professional support that I have had, who have been broken by Formula One and who have seen their careers destroyed."