No Formula One fan will be left indifferent if Ferrari's Fernando Alonso becomes the sport's youngest triple world champion on Sunday.
Like Michael Schumacher and other single-minded Grand Prix greats before him, the 29-year-old Spaniard is a driver who polarises public opinion with the world divided between those who love him or loathe him.
Object of 'Alonsomania' in his native Spain and admired in Italy, but leaving a sour taste in the mouths of many Brazilians and Britons, even his detractors recognise him as the best all-round racer on the starting grid.
A race winner with Renault, McLaren and Ferrari, the son of an explosives factory worker from the northern Asturias region has been involved in some of the biggest controversies ever to rip through the sport.
Time and again, he has emerged as the sport's 'Teflon Man', central to the case without any damaging material ever sticking to him.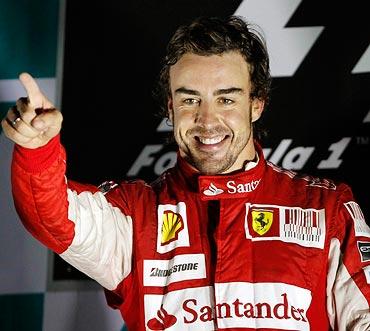 At McLaren, where he had a stormy one-year spell after winning his two titles with Renault in 2005 and 2006, he was handed an amnesty by then-FIA president Max Mosley for providing evidence in a spying scandal that cost the team a record $100 million fine.
At Renault, he won the 2008 Singapore Grand Prix that subsequently turned out to have been fixed when Brazilian team mate Nelson Piquet was ordered to crash deliberately to assist his chances.
Renault were handed a suspended permanent ban, Alonso's manager Flavio Briatore was barred but the governing body ruled that the Spaniard was an innocent party.
FERRARI DEBUT
This year at Ferrari, where he replaced 2007 world champion Kimi Raikkonen and won on his team debut in Bahrain, he was again in the eye of the storm after the Italian team ordered Brazilian Felipe Massa to move aside and let him win.
Ferrari were fined $100,000 but the points were left intact.
Alonso, soft-spoken and particularly wary of the British media after his tortured time at McLaren alongside Lewis Hamilton, simply shrugged off the criticism and did his talking on the track.
There can be no denying his skill, speed and sheer brilliance behind the wheel or his tactical nous.
He is a competitor through and through, thankful to be back in a competitive car and totally smitten by his new Ferrari family.
"He has proved that he is one of the best drivers. You say that we are all great drivers but he is one of the top, top drivers," former McLaren team mate Lewis Hamilton told reporters in Brazil last week.
"If he wins it he deserves to walk in the company of the great names of the past."
When Alonso won his second successive Formula One title at the age of 25, it seemed to some as if an invisible baton had passed between him and departing Ferrari great Michael Schumacher.
Formula One's most successful champion was saying farewell, for just three years as it turned out, and handed over to the youngest.
Hamilton has since taken that accolade off the Spaniard, and Red Bull's 23-year-old German Sebastian Vettel could lower that age still further on Sunday, but Alonso will always have the prestige of beating Schumacher twice when the seven times champion was in his prime.
Only eight drivers have ever won back-to-back titles, only eight have won three or more.
The only Spaniard to win a Grand Prix (he now has 26 victories from 158 starts) let alone a championship, Alonso is also a magician off the track with a love of card tricks and sleight-of-hand.
Married to Spanish pop singer Raquel del Rosario, he lives in Switzerland but has been spending much of his time at the Ferrari factory in Maranello in his determination to leave no stone unturned.
"For me, it has been a great 2010 championship, driving for a new team," he said last month. "From day one I felt very comfortable.
"It has been probably the best year of my career so far."