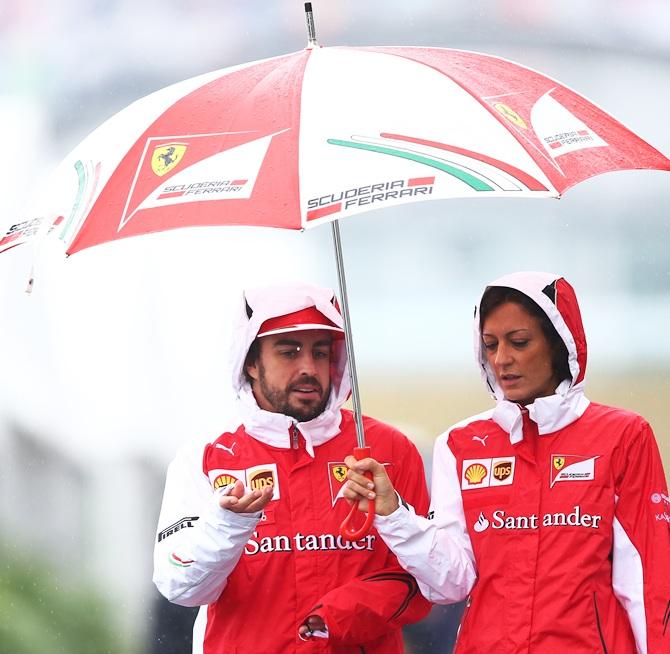 Fernando Alonso of Spain and Ferrari walks across a wet paddock. Photograph: Clive Mason/Getty Images
Ferrari's Fernando Alonso gave a teasing hint about his Formula One future on Sunday by saying the decision would seem obvious once announced and he was unlikely to drive for a Mercedes-powered team.
"I'm not in a hurry...I understand the curiosity, and I understand, for the fans, the news that can be around the future," the Spaniard told reporters at the inaugural Russian Grand Prix.
"But do not worry, do not worry. Just relax, enjoy, and when it's time to know it, you will know it.
"My mind is set, for the last two or three months, and when you know you will understand that probably it was very obvious what I would do," added the double world champion.
In a separate interview with NBC television, Alonso said "I don't think so" when asked if he would be driving for a team with Mercedes engines.
That would appear to leave only a return to McLaren, who are starting a new partnership with Honda, or staying at Ferrari as the 33-year-old's realistic options of a drive given that Renault-powered Red Bull have announced a 2015 line-up.
McLaren have said repeatedly that they have not yet made any decision about their drivers.
Although Alonso has a contract at Ferrari until the end of 2016, he is expected to leave at the end of the year to make way for four-times champion Sebastian Vettel unless current team mate Kimi Raikkonen leaves.
Raikkonen, Ferrari's 2007 champion, has a contract for 2015 but has been eclipsed by Alonso this year.
Vettel announced last week that he was leaving Red Bull at the end of the year, with that team's principal Christian Horner saying the driver was heading for Ferrari. Neither Ferrari nor the German have confirmed anything.
Maintaining the intrigue, Alonso also said he wanted to do his best for the future of Ferrari.
"My decision...was to help this fantastic team, and I'm extremely happy with the things that will come," he said.
Nico Rosberg has only himself to blame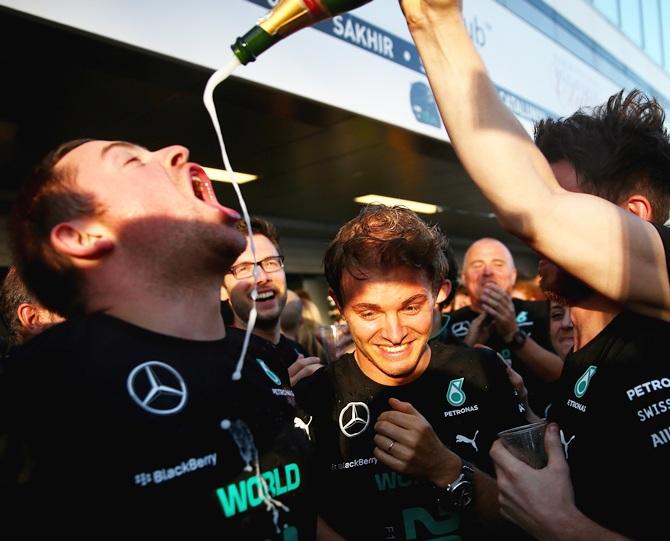 Nico Rosberg of Germany and Mercedes GP celebrates with his team after Mercedes were crowned 2014 World Constructor Champions following the Russian Formula One Grand Prix at Sochi Autodrom. Photograph: Paul Gilham/Getty Images
Nico Rosberg had only himself to blame for a first lap error at the Russian Grand Prix that allowed Mercedes team mate and championship leader Lewis Hamilton to romp to a fourth win in a row on Sunday.
"I just went completely wrong and I don't understand it," said the German, now 17 points adrift of the Briton with three races remaining in what amounts to a private duel between the two for the Formula One title.
"It was actually an easy situation. It's just the first time at this track, first time down there with 160kg (of fuel) in the tank. I just got it wrong completely."
The pair had lined up together on the front row, with Hamilton on pole position, for the inaugural race in Russia at the Sochi Olympic Park circuit.
Rosberg got himself alongside Hamilton but then locked up as he braked, a puff of smoke highlighting the damage to the tyres before he went wide and outside the track limits.
When the team told him to hand back the place to the Briton, Rosberg informed them that he would have to pit instead.
"It was just a mistake on my side, braked too late and that's it. Very unnecessary because it was my corner and I should have been in the lead after that. So, obviously very disappointed with that," he told reporters.
"After that my tyres were just square. They were vibrating so much I couldn't see where I was going so I knew that I had to pit."
When he rejoined the race, he was in 20th place and facing 52 laps on the same set of medium tyres -- a big ask in the circumstances.
Not only did he do it, he clawed his way back to second in an impressive act of damage limitation.
Hamilton says Bianchi was always on his mind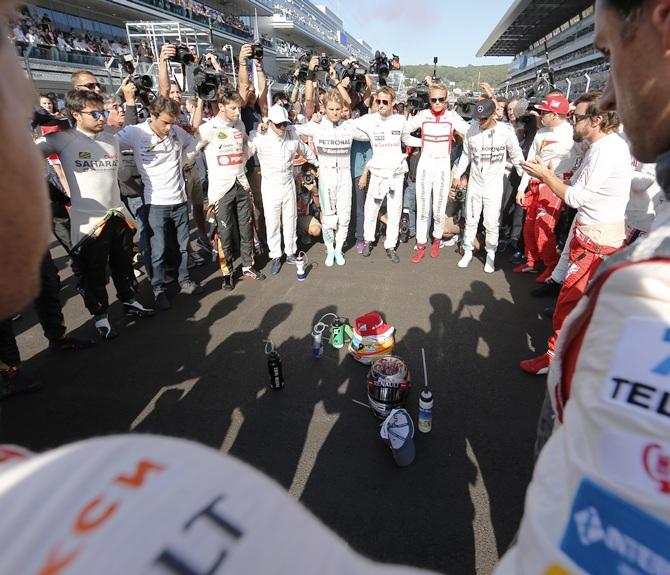 Formula One drivers pray for Marussia Formula One driver Jules Bianchi of France who had an accident in the previous race, before the first Russian Grand Prix in Sochi. Photograph: Valdrin Xhemaj/Reuters
The champagne was sprayed on the podium, and celebratory glasses clinked in the Mercedes hospitality, but Russian Grand Prix winner Lewis Hamilton never lost sight of the bigger picture on Sunday.
With French driver Jules Bianchi critically ill in a Japanese hospital after suffering severe brain injuries in a crash at Suzuka only seven days ago, a cloud has hung over Formula One all week.
It was less evident in the Sochi sunshine, with the drivers feeling free to smile and soak each other in the champagne that had stayed in the bottles the previous weekend, but the memory was always there.
"All week there's just been one person on my mind, and that's Jules," Hamilton told reporters after the team photographs were done with Mercedes jubilant at a first constructors' title.
"Of course there's excitement and happiness for the team," continued the Briton, whose victory in Russia's first race brought him a ninth win of the season and a podium handshake with Russian president Vladimir Putin.
"But without a doubt every time I've got in the car this week, coming here, and being here, I've been thinking about him and his family and keeping him in my prayers every day.
"Whether it means anything, or whether it does anything, it would be great to be able to dedicate this to him and his family. It will make very small difference to them, for sure. But every bit of positive energy hopefully will help."
All the 21 race drivers gathered in a silent circle in front of the safety car on the starting grid before the race, and carried the message 'Tous Avec Jules #17' (All with Jules) on their helmets.
Bianchi's car remained in the quiet half of the Marussia garage, race ready but going nowhere, with the 25-year-old's name over the entrance as if he were present.
Max Chilton was the team's sole driver, with the Briton lasting just 10 laps before retiring with an undiagnosed mechanical problem.
"In the car you don't think about anything," said McLaren's Jenson Button. "That was always the thing with my dad (who died earlier this year) as well. Before the race, after the race, national anthems. It's horrific.
"But when you get in the car and close your helmet and you're racing, it's a nice place to be. You go into another world.
"But on the grid it was quite emotional for everyone and we, the drivers, had our little time together. We were there for Jules. Then getting back into the car, that was the trickiest bit," added the Briton.