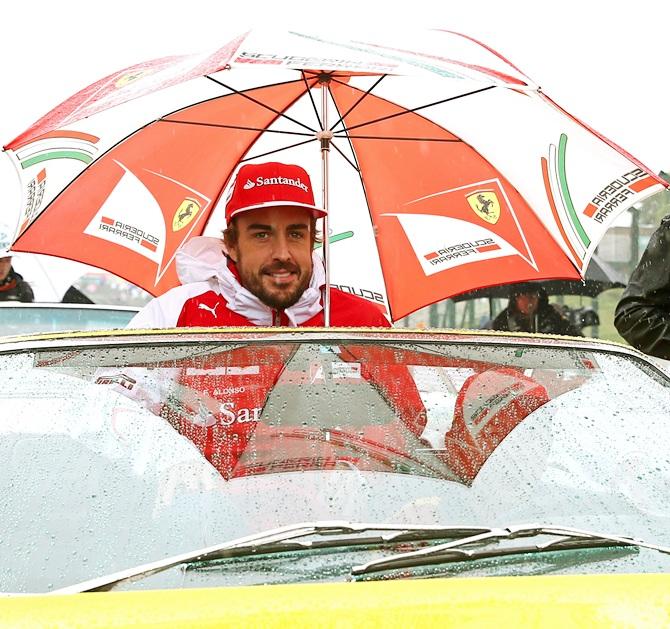 Fernando Alonso of Spain and Ferrari takes part in a rain soaked Drivers Parade. Photograph: Mark Thompson/Getty Images
Fernando Alonso is leaving Ferrari at the end of the season because he wants a fresh environment and needs to be winning again, the Formula One team's ex-chairman Luca di Montezemolo said on Wednesday.
F1 Pitlane Tales: I'm not in a hurry, says Alonso
Formula One: Mercedes secure trophy
Ferrari have yet to confirm Alonso is leaving, although it has been taken for granted in the sport since quadruple world champion Sebastian Vettel announced this month that he was leaving Red Bull at the end of the year.
Vettel has also yet to say where he is going, although Red Bull principal Christian Horner has said the German is moving to Maranello.
"Fernando is leaving for two reasons," Montezemolo told Italy's RAI television.
"One because he wants to cement himself in another environment. And two because he's at an age where he cannot wait to win again.
"He has been disappointed not to have won (the title) in these years and he needs a new stimulus."
Montezemolo left Ferrari on Monday, handing over to the boss of parent company FIAT Sergio Marchionne.
Alonso, a double world champion with Renault, joined Ferrari in 2010 and has finished runner-up in the championship in three of the past four years.
Ferrari have not won a race in more than a year and are currently fourth overall and heading for their first winless season since 1993.
The 33-year-old Spaniard is expected to return to McLaren, the team he left after one fraught season in 2007 when Lewis Hamilton was his team mate.
Alonso told reporters at the Russian Grand Prix last weekend that his choice would be obvious once announced and he was unlikely to be driving a car with a Mercedes engine.
He added that there was no big risk of him not having a drive in Formula One next year.
Former champions McLaren are starting a new partnership with Honda next season.
Alonso's return to Woking would cast a question mark over Jenson Button's future in Formula One, with the 2009 world champion out of contract at the end of the year.
The 34-year-old Briton told reporters in Sochi last weekend that he was relaxed about the future.
"I'm no longer annoyed when people keep asking me," he said. "I was (annoyed) at the last race, but I am more relaxed with it. It is getting so close to the end of the season, it is actually getting funny.
"But I'm not worried or scared with regard to whatever direction I go in the future."