Germany's Nico Rosberg scorched to his third successive Formula One pole position with team mate Lewis Hamilton completing a front row lockout for Mercedes at the Monaco Grand Prix on Saturday.
The pole was the fourth in a row for Mercedes, whose qualifying form has faded in the races so far this season, and second successive sweep of the top two places.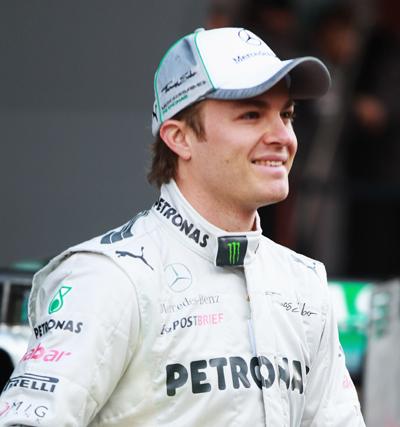 Red Bull's triple world champion Sebastian Vettel qualified third, on a drying track after a damp session, with Australian team mate and last year's winner Mark Webber lining up alongside.
Title contender Kimi Raikkonen, four points behind Vettel after five races, starts fifth for Lotus with Ferrari's Fernando Alonso in sixth place for a race where overtaking can be extremely tricky.
Rosberg could become the first son of a Monaco Grand Prix winner to win the most glamorous race on the calendar - 30 years on from his world champion father Keke's 1983 victory for Williams - but he was not about to get ahead of himself.
"It's always nice to hear statistics like that but it doesn't change much for tomorrow," said the Monaco resident who grew up in the Mediterranean principality and had dominated every practice session through the treacherous metal-fenced streets.
"In Barcelona we were struggling a lot in the race and I finished 70 seconds behind the winner. We're improving step by step, but there are still a lot of questions remaining. It (the tyre wear) is still our weakness but we'll make the best of it and who knows."
Hamilton, 0.91 slower than his team mate, was happy to overcome the problems he experienced in practice and to qualify second for a race that should see just two pitstops rather than the average of four witnessed in Spain.
"I've been struggling all weekend and my pace has been slacking. I've struggled with the car and this is the first time that's happened since 2005," the 2008 winner said, referring to his pre-F1 days.
"It's been a difficult weekend so I'm happy to have been able to lock out the front row for the team. It's been a massive improvement for me."
A light shower before qualifying threw an element of uncertainty into the mix, with Venezuelan Pastor Maldonado fastest for Williams at the end of the first phase on a drying track that caught out Force India's Paul Di Resta.
Ferrari's Felipe Massa did not set a time after crashing in final practice, leaving his mechanics with too much to fix and not enough time to do it. The Brazilian will start last.
Frenchman Romain Grosjean was also racing against time after also hitting the barriers in the morning but the Lotus driver managed to get out of the pits and into the second phase before complaining that he had been held up by a Toro Rosso.
With Massa and Di Resta out, Caterham's Dutch rookie Giedo van der Garde made it into the second phase for the first time.
Vettel was quickest in the second phase but could not match the Mercedes when it mattered most.
"It was very close. Mercedes were very quick all weekend. We know they're quick over one lap but I don't want that to sound like an excuse," said the German. "If anyone is to blame, then it's me. The car was very good."