Force India team owner Dr Vijah Mallya is seen during practice. Photograph: Mark Thompson/Getty Images
Force India Formula One team boss Vijay Mallya feels beating McLaren for fifth spot in the team standings will be a 'big task' in the remaining four races of the season.
Speaking ahead of the inaugural Russian Grand Prix in Sochi, Mallya said anything can happen in the battle for fifth spot.
"We are hanging on in there and we know we face a big task in the final four races to maintain this advantage. We are certainly motivated and will do all we can to add performance to the car and score points," said Mallya days after Force India scored five points at Suzuka to be on 122 points, just one more than sixth-placed McLaren.
"In Formula One, anything can happen – we've seen it over and over again – and with double points on offer in Abu Dhabi there is all to play for," he added.
Sergio Perez of Mexico and Force India speaks with Jenson Button of Great Britain and McLaren. Photograph: Christopher Lee/Getty Images
The teams' drivers meanwhile are looking forward to the first ever F1 race in Russia.
"It's always fun to explore a new place and this will be my first visit to Russia. So far I've only seen a few photos of the paddock and the track layout so I will arrive there with a very open mind about what to expect," said Hulkenberg.
"It's hard to look at a track on paper and really get an understanding of how it will feel to drive. I prefer to go there and experience things before I make judgments and talk about track characteristics. So in that sense it's too early for me to compare it with another circuit. What is clear is that there are some really quick sections and a lot of right-angled corners," said the German who finished eighth in an incident filled race in Japan.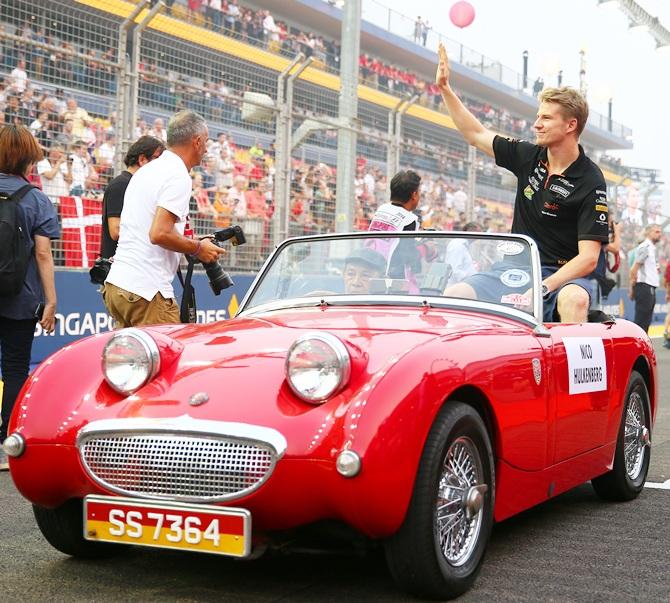 Nico Hulkenberg of Germany and Force India takes part in the drivers' parade. Photograph: Mark Thompson/Getty Images
His Mexican teammate Sergio Perez said: "The location of the track inside the Olympic park is very unusual. If I get the opportunity I will definitely explore a bit. From the photographs I've seen it looks to be a very impressive facility. There are some long straights, some tight corners, and I think it will feel like a street circuit because the walls are close to the track in a lot of areas.
"To prepare for a new track I normally walk the track and cycle it a few times. Normally you need about 10 laps before you can really start doing performance runs. Nobody knows the track so it will be the same situation for all of us. We all start from zero."