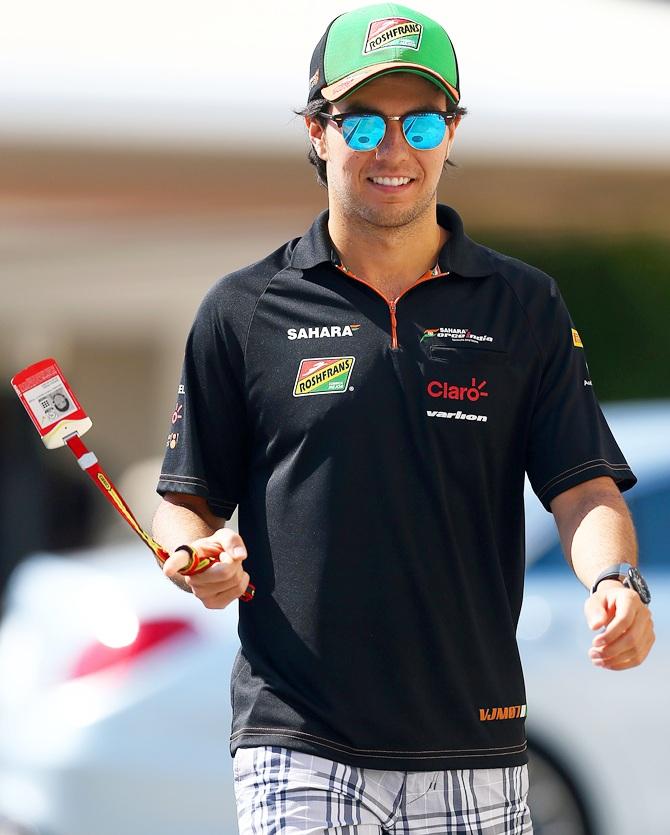 IMAGE: Sergio Perez of Mexico and Force India arrives in the paddock. Photograph: Clive Mason/Getty Images
Some Formula One drivers never experience the pride and passion of racing in a home Grand Prix, their countries unlikely ever to appear on the calendar, but Mexican Sergio Perez will not be one of them after this weekend.
His country is making its return after a 23-year absence and Perez, the only Mexican on the current starting grid, cannot wait to tap into the energy of an expected 100,000-strong capacity crowd.
The excitement may not be in the same league as Lewis Hamilton's elation at winning his third world championship in Texas last Sunday but it will still be a momentous occasion for the Mexican.
"Having the opportunity of driving in my home grand prix is something I never thought would happen," says the 25-year-old, who has only ever raced go-karts in Mexico.
"It will be one of the highlights of my career and I have no doubt that this race will become a modern classic of Formula One."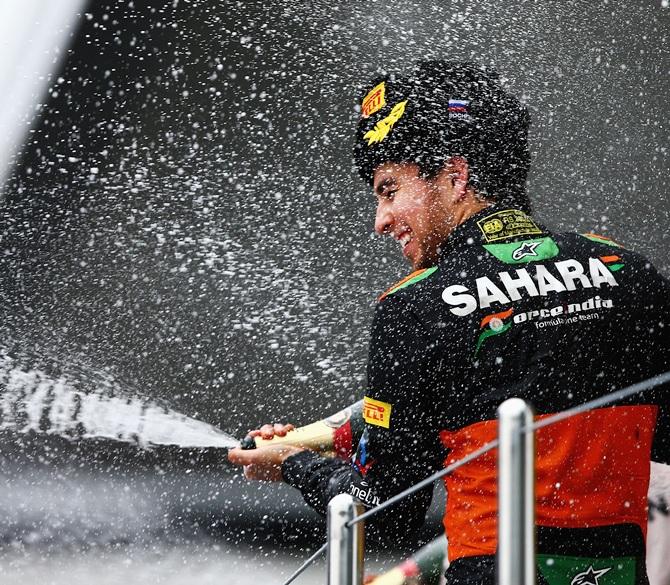 IMAGE: Force India's Sergio Perez celebrates on the podium after finishing third in the Formula One Grand Prix of Russia at Sochi. Photograph: Clive Mason/Getty Images
While the race comes on the 'Day of the Dead' national holiday, the fans should be among the liveliest of the year and Perez has been doing his bit to crank up the excitement further.
Third place in Russia was his Force India team's best result of the season and he followed that up with fifth in Austin.
He has now finished in the points in five of the last six races and has every chance of becoming the first Mexican to score in his home race since the late Pedro Rodriguez was sixth in 1970.
Another podium at the Autodromo Hermanos Rodriguez would send the fans into a frenzy and Perez was not ruling it out, even if he recognised it would take a big slice of luck.
"In normal conditions we are the fourth or fifth fastest team depending on the race weekend," he told Reuters in Austin. "So in a normal race, there's no chance.
"Russia was a one-off. Probably in my whole career in Formula One I never had two safety cars before lap 30 or so. So in normal conditions it's going to be difficult but we aim to do the best we can for all the Mexican fans."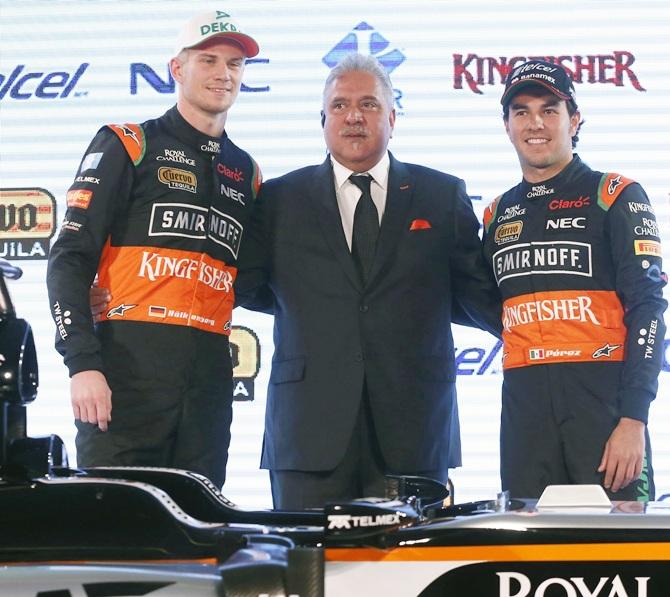 IMAGE: India Formula One drivers, Nico Hulkenberg of Germany, left, and Sergio Perez of Mexico,right, and Force India team principal Vijay Mallya pose with the new Force India racing car. Photograph: Edgard Garrido/Reuters
Hamilton, inevitably, will again be the favourite for what would be his 11th win of the season but team mate Nico Rosberg will be no less determined after a late mistake cost him the victory in Austin.
"Whatever happens in the past doesn't change me going forward. It's always full attack, big push, that's the way I am," said the German, whose main aim now is to at least overhaul Ferrari's Sebastian Vettel and finish second in the standings.
Hamilton, however, has far less pressure.
Mercedes have won both titles for the second year running and as he said on Sunday night before heading for the team party: "now I can go and win for fun."
There would be a symmetry in that, too, if he did.
The last winner in Mexico was fellow-English champion Nigel Mansell in 1992, who now has the revamped last corner named after him.
It was there, in 1990 on the old banked and bumpy Peraltada corner that has now been modified for a safety reasons, that Mansell pulled off a breathtakingly brave move in passing Austrian Gerhard Berger around the outside for second place.