Germany's Timo Glock has left Marussia with immediate effect in a decision driven by financial reasons and the Formula One team's need for money in a tough economic climate.
The Russian-licensed team said on Monday that the 30-year-old, who was a rarity among the tail-end teams in being paid to drive rather than securing his seat with sponsorship, had departed by mutual consent.
They added in a statement that a replacement would be announced in due course. The team's other confirmed driver is British newcomer Max Chilton, who brings substantial backing with him.
Marussia, formerly Virgin Racing, start their fourth season in Australia on March 17 still searching for their first point and ranked 11th of the 12 teams in 2012.
"The ongoing challenges facing the industry mean that we have had to take steps to secure our long-term future. Tough economic conditions prevail and the commercial landscape is difficult for everyone, Formula One teams included," said principal John Booth in a statement.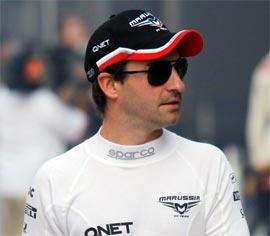 "We would like to thank Timo for working with us to reach this decision, especially as he had a valid contract, and also for the contribution he has made to our team."
Glock, who previously raced for now-defunct Jordan and departed Toyota, has been with Marussia since they started and provided much-needed experience.
The German, who also raced in Champ (Indy) Cars in the United States and won Formula One's GP2 support series in 2007, is expected to switch to the German DTM touring car championship.
THREE VACANCIES
"I would like to wish the team good luck in navigating this next period and thank everyone for the great times we shared and the support I have received," he said.
"Although it is not the path I expected to be taking, I am in fact very excited about what the future holds in terms of my own career and I hope to comment on that very soon."
His exit opens up a third vacancy on the Formula One starting grid after unfilled seats at Force India and Caterham, with both of those teams also looking for drivers who can bring sponsorship or other support with them.
Spanish-based HRT, last season's back of the grid team, failed to pay their entry fees for 2013 after struggling throughout last year.
Formula One has a long tradition of 'pay drivers', including greats such as triple champion Niki Lauda, who broke into the sport thanks to the money he brought with him, and there are several candidates for the available seats.
One might be Russian Vitaly Petrov, who raced for Caterham last season and is still in the frame for that drive.
Russia is due to host a Grand Prix for the first time next season and Marussia, despite being British-based, have had a long-term aim of racing at home with a Russian driver.
Brazilian Bruno Senna is also looking for a job after being dropped by Williams while Indian Narain Karthikeyan has backing from India's Tata Group.
The Force India vacancy appears to be between Germany's Adrian Sutil and Frenchman Jules Bianchi, who has support from Ferrari as a member of their driver academy.
Photograph: Vivek Prakash/Reuters