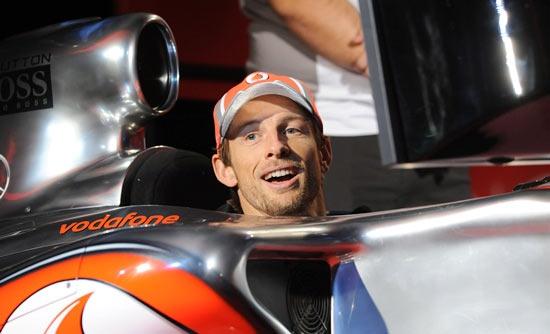 IMAGE: Jenson Button of Great Britain and McLaren. Photograph: Stuart Wilson/Getty Images for Santander
McLaren on Thursday confirmed that former F1 champion Jenson Button would race for the team in 2016, ending weeks of speculation regarding the driver's future.
Button said he was confident the team would overcome its "current difficulties" to achieve great successes in the future.
"That gives me great confidence, and it is for that reason that, together, (team chief Ron Dennis) and I have decided to continue our partnership," he said.
"Okay, granted, this year has not been an easy one for us, but we know what we need to do to improve things," he said.
Last month, media reports suggested the McLaren driver, whose wife is Japanese, was likely to announce at the Japanese Grand Prix that he would be leaving Formula One at the end of the year.
Button has scored just six points from 14 races, with his best result eighth in Monaco.
The Briton, who made his debut with Williams in 2000, has won 15 grands prix -- eight with McLaren. He won his title with Brawn GP, now Mercedes. His 279 race starts make him the third most experienced driver of all time.