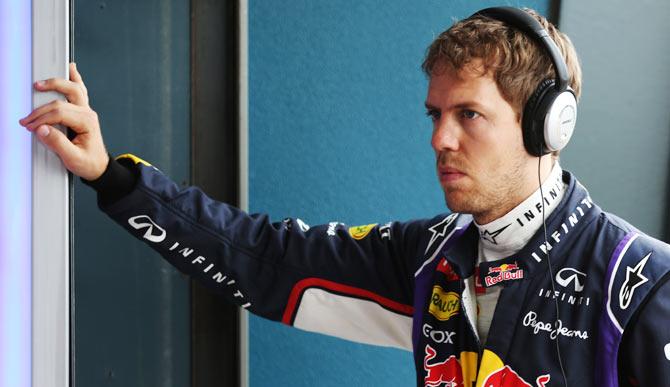 Sebastian Vettel of Germany. Photograph: Mark Thompson/Getty Images
Four times Formula One world champion Sebastian Vettel decided to leave Red Bull because he needed new motivation after a frustrating season, team consultant Helmut Marko said on Saturday.

The Austrian said at the Japanese Grand Prix that the split between the reigning champions and the 27-year-old German, who has won all his titles with them, was 'amicable'.

Red Bull announced on Saturday that Vettel, who has been overshadowed by Australian team mate Daniel Ricciardo this season, would be leaving at the end of the year with his seat taken by Toro Rosso's Russian rookie Daniil Kvyat.

"Last couple of days the whole thing happened," said Marko, a former racer and the head of Red Bull's driver development programme who is close to the energy drink company's billionaire owner Dietrich Mateschitz.

"But we split it amicably, you know. There's no bad feeling either on our side or on his side."

Red Bull team boss Christian Horner told reporters at Suzuka that Vettel is moving to Ferrari, although there was no immediate confirmation from the Italian team.

Vettel is expected to replace Spain's double world champion Fernando Alonso, who has been heavily linked with a return to McLaren, as team mate to Finland's 2007 champion Kimi Raikkonen.

Marko refused to be drawn on Vettel's movements but said he understood the German's reasons for leaving.

"I'm not sad because we had a fantastic time, we had some fantastic success," said Marko, who was instrumental in bringing Vettel up through the Red Bull programme from race winner at Toro Rosso to champion four years in a row from 2010-13.

"We discussed it. He's looking for new motivation for new challenges so life goes on. And it was no problem, we decided immediately to take Kvyat and hope to repeat the story with another junior from us," said Marko.

Kvyat, now 20, joined Toro Rosso this year and became the youngest ever points scorer on his debut in Australia in March at the age of 19.

That record was taken from Vettel, who made his Formula One debut with BMW Sauber –- for whom he was a test driver -- as a substitute for Poland's Robert Kubica at the 2007 US Grand Prix.

Vettel has been at Red Bull since 2009, becoming the youngest champion and setting a string of further records as the most successful German driver since Michael Schumacher, who won five of his seven titles with Ferrari.

The partnership has yielded 38 race wins, 13 of them last season alone, but Vettel has struggled to recapture that form this year with new technical regulations and reliability problems.

He has yet to win a race in 2014 while Ricciardo has chalked up three victories and remains the only driver apart from the Mercedes pair of Lewis Hamilton and Nico Rosberg to have triumphed this year.

"For sure, that was part of the reason but the thing is you know we had been together very, very long," Marko said of Vettel's frustrating year.

"So he's still young, he's 27, and it was mainly a new challenge what he was looking for."