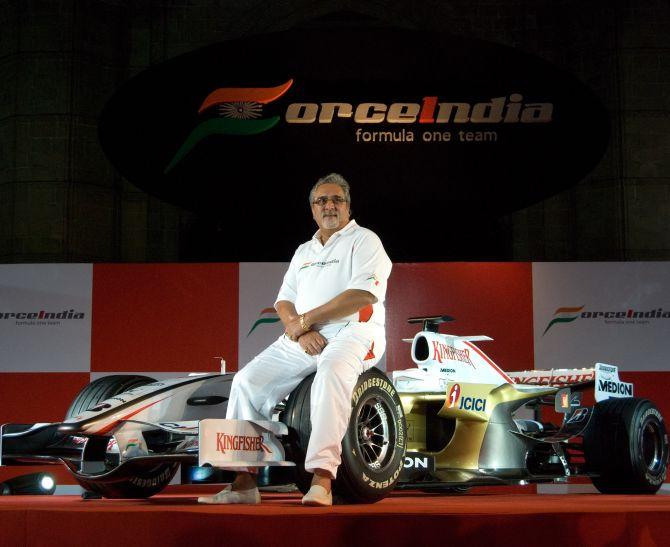 Racing Point, a consortium led by Canadian billionaire Lawrence Stroll, paid 90 million pounds ($117 million) to take over Formula One racing team, Force India in August, an administrators report shows.
The report also revealed the parlous finances of the Vijay Mallya-owned team at the time they were taken into administration last July.
The Silverstone-based team had only 240,000 pounds in its account on July 27 while outstanding gross wages due to be paid at the end of that month totalled 2.2 million pounds.
The estimated funding requirement for August, including staff salaries, was 9.6 million with "no meaningful income" forecast to be received. Santander had frozen the company's bank accounts on July 25.
FRP said engine providers Mercedes were owed 13.7 million pounds while representatives of Mexican driver Sergio Perez were demanding payment of $4.01 million. Supplier Formtech was also owed 2.3 million pounds.
Indian businessman Mallya, who is London-based and fighting an extradition request from authorities in India, previously owned 42.5 percent of the team with a similar shareholding in the hands of India's Sahara Group.
Indian banks seeking to recover about $1.4 billion in loans made to Mallya's defunct Kingfisher Airlines obtained an order freezing shares in the team's holding company last November.
FRP said sponsor BWT provided an immediate unsecured loan of five million pounds to ensure July wages were paid, a sum repaid by a further 15 million loan from Stroll's Racing Point following an exclusivity agreement on August 7.
The administrators received more than 20 expressions of interest in the team, and had needed to move fast given the financial situation and approaches to key members of staff from rivals.
After an August 6 deadline there were five bids left but Racing Point, led by the father of Williams F1 driver Lance Stroll, were the only ones aiming to rescue the company as a going concern.
Racing Point offered to acquire the business and assets for 90 million pounds in the event that a share purchase could not be completed in time, as proved to be the case.
In addition to Stroll, Racing Point includes Canadian entrepreneur Andre Desmarais, Jonathan Dudman, John Idol, telecoms investor John McCaw Jr, Michael de Picciotto and Stroll's business partner Silas Chou.
The sale process is being contested by Russian potash producer and recent Force India sponsor Uralkali, which claims it offered more for the assets.
The FRP report said two claims against the team of eight and 10 million pounds as commission for introducing a sponsor were pending, with the first scheduled for trial next July.
FRP rejected a claim by the previous owners that they were owed 159 million pounds and said legal advice indicated instead a debt of at least 4.2 million.