News of all that's transpired on and off the football field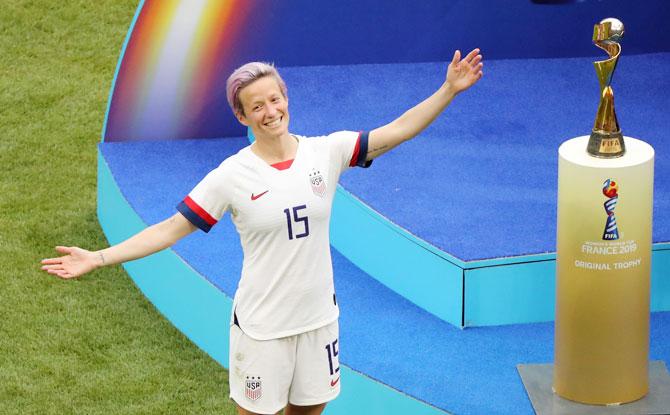 Megan Rapinoe collected another accolade in a stellar year by claiming Sports Illustrated's Sportsperson of the Year honour on Monday for her performance on the US women's World Cup-winning soccer team and for her campaigning off the field.
Rapinoe rocketed to household fame this year, taking home the Golden Boot and Golden Ball from the World Cup as top scorer and best player, as the US retained the trophy and on the way became advocates for gender pay equity in sport.
The midfielder also picked up the prestigious Ballon d'Or award for the world's best female player.
"Choosing Megan as the Sportsperson of the Year was an easy decision," Sports Illustrated's co-editor in chief Steve Cannella said in a statement.
"She is a force of nature on and off the field, a trailblazing soccer player who also proves every day how large and loud a voice a socially conscious athlete can have in 2019."
The 34-year-old Californian and her team mates sued the US soccer governing body in March for gender discrimination, arguing they had been paid less than the men's squad and were provided inferior working conditions.
Mediation between the two parties fell apart in August, leaving a cloud over the team's Olympic preparations with a trial date in looming in May.
They face qualifying matches for the 2020 Tokyo Games beginning next month, in a fight for redemption after a disappointing showing at the Rio Games.
Sports Illustrated previously gave the Sportsperson of the Year prize to the 1999 US women's national team, who won the World Cup, but Rapinoe is the first individual soccer player to receive the honour since the award was first given out in 1954.
Two supporters arrested for homophobic abuse in Brighton versus Wolves draw
Two supporters from the away end at Brighton & Hove Albion's Amex Stadium were ejected and later arrested by the Sussex Police for homophobic abuse during Sunday's 2-2 draw against Wolverhampton Wanderers, the two clubs said on Monday.
The homophobic abuse came at a time when Premier League clubs were celebrating the Rainbow Laces campaign which supports LGBT people, with items ranging from captain's armbands to substitutes boards sporting rainbow colours.
Stewards removed the two supporters after they were reported for homophobic gestures and the pair were arrested by the police outside the stadium.
"It's both sad and depressing that once again we find ourselves having to address another situation of discriminatory abuse," Brighton's chief executive and deputy chairman Paul Barber said in a statement.
"Prior to kick-off, we had a huge show of support for the Rainbow Laces campaign brilliantly backed by the vast majority of people inside the stadium.
"And yet before the game is over, we are forced to deal with these two individuals, who think it's okay to behave in this way."
Sussex Police said the two were arrested "on suspicion of using threatening or abusive words or behaviour likely to cause harassment, alarm or distress" and later released.
"The two men – aged 46 and 48, and both from Bridgnorth in Shropshire – have been released under investigation pending further enquiries," it said in a statement.
Wolves strongly condemned the behaviour of the fans arrested and said they would support the Sussex Police in their criminal investigation.
Greater Manchester Police arrested a 41-year-old man over the weekend in connection with alleged racial gestures and chants in Saturday's match between Manchester City and Manchester United at the Etihad Stadium.
Players in historic Spanish match-fixing case cleared
A Spanish court cleared 36 players of sporting corruption on Monday relating to the 2010-11 season match between Levante and Zaragoza, which was investigated on suspicion of match-fixing after the latter won to stay in the top flight.
Two former Zaragoza officials were convicted of fraud. The Spanish side were accused of paying Levante players 965,000 euros ($1.06 million) to lose so Zaragoza could avoid relegation.
Paris St Germain midfielder Ander Herrera, Leganes coach Javier Aguirre, and former Atletico Madrid captain Gabi Fernandez were among those who stood trial.
All 41 people accused were found not guilty, with the Valencian court citing a lack of evidence in a statement.
The judge convicted former Zaragoza president Agapito Iglesias and former financial director Javier Porquera of fraud, issuing them a one year and three month jail sentence. However, they are unlikely to serve jail time due to Spanish rules over suspended sentences for first-time offenders.
The two former Zaragoza officials were found guilty of using 1.73 million euros from Zaragoza's accounts to pay players relegation bonuses.
England announce March friendly with Italy
England will play Italy in an international friendly on March 27 at Wembley Stadium, the country's soccer governing body (FA) said on Monday.
Both sides qualified for Euro 2020 after topping their respective groups, with Italy qualifying with a perfect record of 10 wins in 10 games.
The fixture will be played exactly two years to the day since they last played out a 1-1 draw at the same venue. England also host Denmark, who they last played in March 2014, four days later at Wembley.
England are in Group D at Euro 2020 along with Croatia, the Czech Republic and a yet-to-be decided playoff winner. Italy are in Group A with Turkey, Wales and Switzerland. The tournament kicks off on June 12.