News of all that's transpired on and off the football field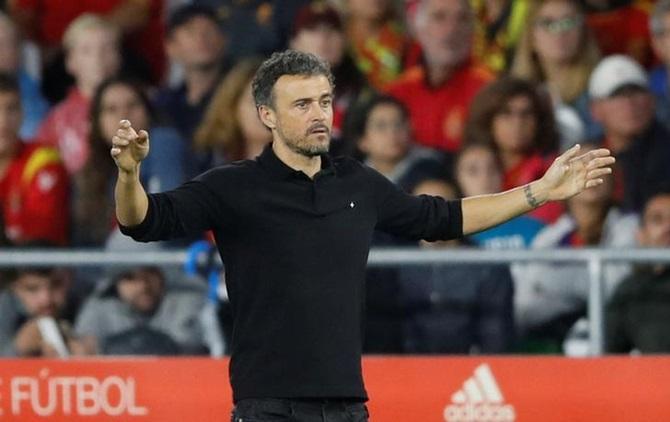 Spain coach Luis Enrique resigned from the team on Wednesday, three months after temporarily stepping aside for personal reasons, with his number two Robert Moreno taking on the role permanently.
"Owing to the fact that the circumstances which have prevented me from carrying out my role as coach since March continue today I have decided to leave the role," Luis Enrique said in a brief statement on the Spain team's website.
"I would like to show my gratitude to everyone at the Spanish football federation (RFEF) for the faith they have shown me and for understanding the situation.
"I also want to especially thank all the members of staff and players for their professionalism, and the media for showing discretion and respect for the situation."
Federation president Luis Rubiales said the decision came entirely from Luis Enrique, who returned home hours before Spain's second Euro 2020 qualifier at Malta for what the federation described as "family matters of an urgent nature".
"It was a decision Luis Enrique took himself which we are grateful for. We will have a perfect memory of him," Rubiales told a news conference.
"It's a personal matter which doesn't depend on us. We think it's the best thing to do. We have stayed united behind Luis Enrique and the doors of the federation will always be open to him."
Luis Enrique, 49, became Spain coach last July after their exit from the 2018 World Cup to hosts Russia under interim coach Fernando Hierro after Julen Lopetegui was sacked on the eve of the tournament for negotiating a move to Real Madrid.
A former coach with AS Roma, Celta Vigo and Barcelona, Luis Enrique took charge of Spain's UEFA Nations League campaign, where they failed to reach the semi-finals, finishing second in their group behind England.
He began their Euro 2020 qualifying campaign with a 2-1 home win over Norway while Spain have won every game since Moreno took temporary charge, beating Malta 2-0 in March and winning 4-1 at the Faroe Islands and defeating Sweden 3-0 at home this month.
"It's a bittersweet day for me. I dreamed about being a coach but not in this way," said the 41-year-old Moreno, who has no experience as a first team manager apart from in the last three months as the national team's caretaker coach.
"We're going to work honestly and try to take the work Luis Enrique did to the highest level by qualifying for and winning Euro 2020."
Rubiales said that he did not consider any other candidates to take the vacant role.
"Robert Moreno was the only solution we considered," he said.
"We started a new sporting project here a year ago which is going stupendously well and we wanted that project to continue. If we'd have hired a different coach the project would have changed."
Platini freed after questioning over Qatar WC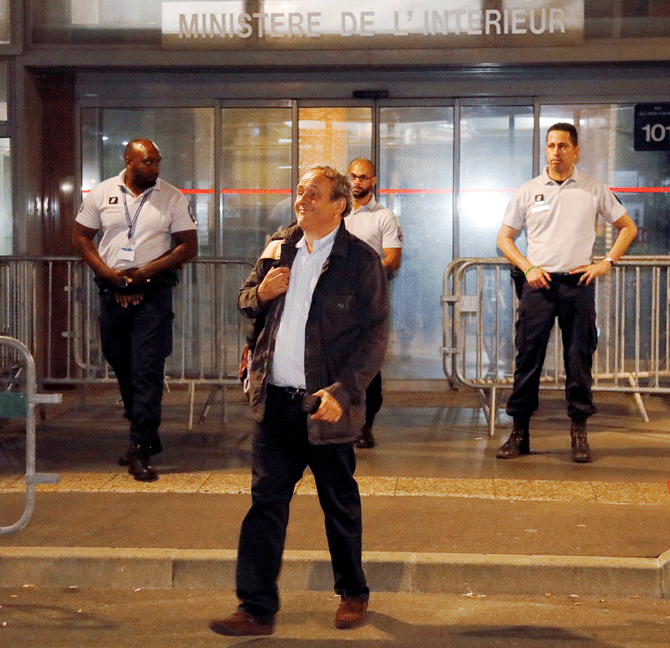 Michel Platini, the former head of European soccer association UEFA, was released in the early hours of Wednesday after having been questioned over the awarding of the 2022 World Cup soccer tournament to Qatar.
Platini's lawyer, William Bourdon, said his client was innocent of all charges and that he had been questioned on "technical grounds."
"It was very long, given the number of questions, it was obviously always going to be long, since they asked me questions over Euro 2016, the World Cup in Russia, the World Cup in Qatar, Paris Saint Germain, FIFA," Platini told reporters on Wednesday as he left the police station where he had been detained.
"I replied to all the questions calmly, whilst still not knowing why I was there," he added.
The French national financial prosecutor's office, which specialises in investigating economic crimes and corruption, has been leading a probe into the awarding of the 2022 tournament to Qatar.
It is looking into possible offences including private corruption, conspiracy and influence peddling.
The decision in December 2010 to award the World Cup to Qatar surprised many given the lack of potential local audiences for the games, the extremely hot summer weather, and the poor performance of the country's national squad. It will be the first Arab state to host the competition.
Platini is one of France's most famous sportsmen and soccer stars. He led France to victory in the 1984 European Championship and played in two World Cup semi-finals.
Wrong to remove World Cup fans advocating for Iranian women: FIFA
World soccer governing body FIFA says it was wrong for stewards to intervene and remove two fans at a women's World Cup match in France on Saturday because they advocated for Iranian women to be allowed into stadiums in the middle eastern country.
Two supporters were forced to leave a match in Grenoble because they wore t-shirts which had slogans demanding Iranian women be allowed access to stadiums and messages relating to the enforcement of hijabs (headscarves worn by Muslim women).
Iranian women and girls have not been allowed to attend any men's sporting events in the country for much of the four decades since the Islamic revolution, and they have not been granted access to matches involving top clubs since 1981.
However, Iran relaxed the rule last year when hundreds of women were allowed to watch the Asian Champions League final between home side Persepolis and Japan's Kashima Antlers at Tehran's Azadi stadium in November.
"FIFA believes that the message to allow women into football stadiums in Iran is a social, not political, matter and so the message on the front of the t-shirts worn by two fans is not against the FIFA rules," FIFA said in a statement.
"The fans should not have been asked to remove their t-shirts or to leave the stadium by local security, even if there were other messages on the back of their t-shirts.
"FIFA will do its best to ensure that any similar situations do not occur at future matches during the competition."
The women's World Cup, which began earlier this month, ends on July 7 with the final to be played in Lyon.
US defeat Guyana 4-0 in Gold Cup opener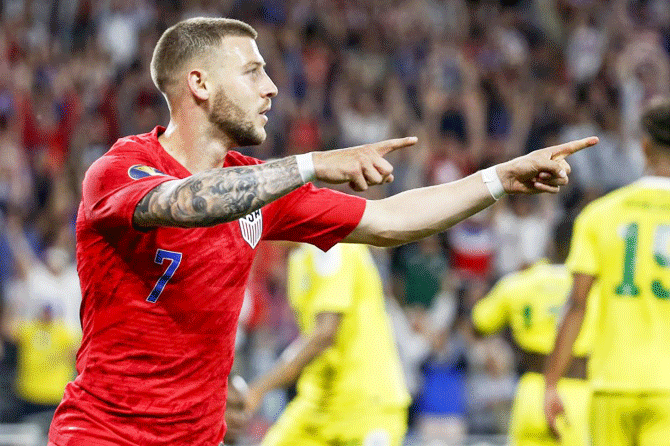 The United States got their Gold Cup title defence off to a flying start with a 4-0 win over Guyana in Saint Paul, Minnesota on Tuesday.
The United States opened the scoring in the 28th minute when Weston McKennie delivered a pass to Paul Arriola, who found the back of the net to fire up the crowd at Allianz Field.
Tyler Boyd made it 2-0 in the 51st minute, taking a long pass from Michael Bradley and rifling the ball home despite appearing to be in an offside position.
The tournament is not using Video Assistant Referee (VAR) technology so the play was not reviewed.
Boyd's goal was the 1,000th scored by the U.S. Men's National Team, who played their first match in August 1916.
Gyasi Zardes pushed the lead to 3-0 10 minutes into the second half when a deflected shot hit him hard in the face and sailed into the goal. The 27-year-old appeared shaken but continued playing.
Boyd struck again from distance in the 81st minute to complete the rout.
"We knew we had to get started on the right foot and after breaking the ice, we were able to break them down," Arriola said.
"The most important thing was to win with confidence and clarity and I think we did that today. It's a great start for us but it's just one game."
The victory, which came on the back of two defeats in friendlies against Jamaica and Venezuela, was the biggest yet for US head coach Gregg Berhalter, who was hired in December after the United States failed to make last year's World Cup.
One concern for the team was a left hamstring injury suffered by 20-year-old midfielder McKennie late in the game.
The United States next face Trinidad and Tobago in Cleveland on Saturday.
It will be the first meeting between the two since Trinidad and Tobago's victory in October 2017 ended the United States' qualification campaign for the World Cup in Russia.
In the other Group D game, Guyana will face Panama, who defeated Trinidad and Tobago 2-0 earlier in the day.
The United States are looking for their seventh Gold Cup title while Guyana are making their first appearance at the competition, which is held every two years and crowns the continental champion of North America, Central America and the Caribbean.
Panama beat Trinidad and Tobago 2-0 at Gold Cup
Panama scored two second-half goals en route to a 2-0 Gold Cup win over Trinidad and Tobago in Saint Paul, Minnesota on Tuesday.
After a lacklustre first half, Panama took the lead in the 53rd minute when they intercepted a pass deep in opposition territory before Armando Cooper netted his first Gold Cup goal.
Panama doubled their advantage in the 68th minute through Edgar Barcenas after Trinidad and Tobago goalkeeper Marvin Phillip had blocked several shots in quick succession.
Trinidad and Tobago's next game in Group D is against the United States in Cleveland on Saturday while Panama face Guyana.
Scholes fined, warned by FA for betting breaches
Former Manchester United midfielder Paul Scholes has been fined 8,000 pounds ($10,062) and warned about his future conduct after he admitted a misconduct charge in relation to betting, the English Football Association (FA) said.
It was alleged the 44-year-old former England international had placed 140 bets on soccer matches between August 2015 and January 2019.
"I accept last week's ruling. I would like to apologise and I understand and fully accept the fine imposed by the FA," Scholes said in a statement released to British media.
"It was a genuine mistake and was not done with any deliberate intention to flout the rules.
"I wrongly believed that as long as there was no personal connection between me and any of the matches that I bet upon then there would be no issue. However I understand now that this is not the case and I should have taken steps to verify this."
Scholes won 11 Premier League titles, three FA Cups and two Champions League crowns with United before hanging up his boots in 2013.
In March, he left his role as manager of League Two outfit Oldham Athletic after only 31 days in charge.