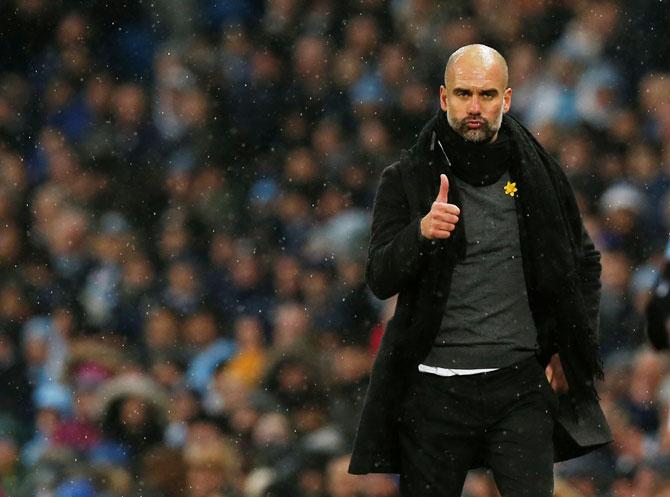 Manchester City boss Pep Guardiola said on Monday that he was planning to stay with the Premier League club next season amid talk that he would leave the champions at the end of the current campaign.
The Spaniard, who has never managed a club for more than four years, denied reports earlier this month that his contract until 2021 contained a 'break clause' that could allow him to leave at the end of the season.
City's hopes of a third successive league title look slim with Guardiola's side trailing Liverpool by 11 points and the 48-year-old said his future at the club was not entirely down to him.
"This is my fourth season, next season will be the fifth because I try to stay next season. It is a long time," Guardiola told reporters ahead of Friday's trip to Wolverhampton Wanderers.
"I am incredibly good here. I have to see if I deserve a new contract. The level has increased a lot and expectations are higher and we have to see if we can handle it. It is not just up to me."
"Now we have a break with the family and prepare (for) Wolves and the rest. We have time to think about it in the future."
City face Wolves who are sixth in the standings and Guardiola praised their manager Nuno Espirito Santo who has overseen only one loss in their last 13 league matches.
"Wolves is always one of the toughest opponents," Guardiola said.
"What Nuno is doing is incredible. It is one of the toughest games and at home they are incredibly organised with pace up front."
"Hopefully we can maintain the level of the last weeks and last games."
Guardiola's also touched upon his long-time assistant manager Mikel Arteta, who replaced Unai Emery as manager at Arsenal last week.
"He's now Arsenal manager," Guardiola added. "We prepared the Leicester game without him and tried to work the way we have the last years. We will work a little bit harder, that's all."
Guardiola confirmed midfielder Kevin De Bruyne was not injured after he hobbled off with a cramp during Saturday's win over Leicester City but David Silva, Sergio Aguero and John Stones remain sidelined.
Mourinho bemoans Son ban and VAR use in Premier League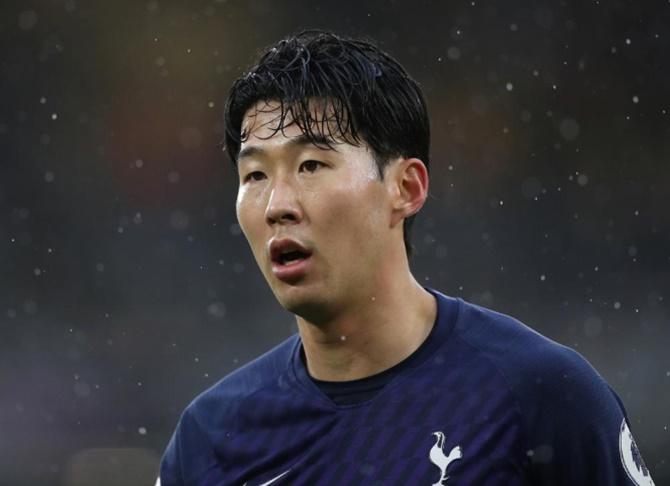 Son Heung-min's unavailability due to a three-match ban for a red card in Sunday's 2-0 Premier League defeat by Chelsea is a big loss for Tottenham Hotspur, manager Jose Mourinho said on Monday.
Son kicked out in retaliation at Chelsea defender Antonio Rudiger and referee Anthony Taylor produced a straight red card after a VAR review, leaving Spurs with 10 men for the last half hour.
Mourinho confirmed Spurs would be appealing Son's red card ahead of three games in seven days starting with Brighton & Hove Albion's visit on Thursday.
"It would be a big loss, we don't have a big squad," Mourinho told reporters. "We don't have lots of players.
"This is a moment where it is normal to think about rotations and very difficult situations for players to play every game. We don't have (Erik) Lamela and it's a big loss for us."
Mourinho was adamant the incident should not have been referred to VAR because Taylor had seen the incident.
"It's the wrong call," Mourinho said. "This is England, this is the Premier League, this is the best competition in the world, with characteristics that if we change them we are killing the best league in the world.
"Taylor had the feeling, he was there, he saw it clearly so I think it's the wrong call. Then it's with things like this that people don't like the VAR, because with penalties like that everybody likes VAR.
"When it's a clear and obvious mistake everyone says 'welcome VAR'...It's clear, clear. So for me that's the VAR that I like and yesterday on the Son red card, the VAR that I hate."
Rudiger was a victim of alleged racial abuse shortly after Son was sent off and the defender has called for the guilty fans to be punished.
Mourinho said that society needs help in eradicating racism but that the entire Spurs fanbase should not be condemned.
"It's not fair to say Tottenham fans. One Tottenham fan is not Tottenham fans," he said. "Tottenham fans, at least since I am here... have been phenomenal... respecting the opponents. Incredible behaviour."
West Ham keeper Fabianski nearing injury return, says Pellegrini
Fabianski tore his hip muscle in September and Martin sustained a similar injury in the 1-0 win at Southampton this month.
The club have had 12 days between games after the match against Liverpool was postponed and Pellegrini said he would assess their fitness ahead of Thursday's match at Crystal Palace.
"Both of them are recovering, we will see in the next days who is able to play," Pellegrini told a news conference.
"I don't think either will be able to play both games in 48 hours, so we'll see in the next couple of days who will be playing at Crystal Palace.
"Fabianski is working every day a little bit harder. If he is not ready for the 26th, then maybe the 28th or the 1st."
West Ham host Leicester City on Saturday and Bournemouth four days later.
Pellegrini was also given a boost with midfielders Manuel Lanzini, who has been sidelined since November with a collar bone fracture, and Felipe Anderson back in contention but Jack Wilshere is yet to return to training.
"Lanzini has worked without any problems for around 10 days," Pellegrini added. "It's maybe more easy to return after a shoulder injury.
"Felipe has worked a complete week without problems after his illness. Jack Wilshere has had some problems with his groin so he hasn't worked with the squad."
New Arsenal boss Arteta demands accountability from players
Arsenal have a squad that can be improved but the players must take up responsibility and be accountable for their actions on the pitch if they are to be a part of the club's future plans, new manager Mikel Arteta said on Monday.
In his first news conference last week, Arteta had demanded 'passion and energy' from the players and the Spaniard said he was satisfied with what he saw during Saturday's 0-0 draw at Everton.
Arteta, 37, will make his managerial debut when 11th-placed Arsenal travel to Bournemouth on Thursday.
"I think that we have a really good team with a lot to improve," Arteta told reporters. "I need them all on board. All the meetings we've had is to get everyone on board and so far I'm very happy with the reaction."
"What we are going to transmit to the team is accountability to play for this football club. This is the basic... We are much more committed. The body language (in the Everton draw) was much better and they had much more passion, that is non-negotiable."
Arteta confirmed interim boss Freddie Ljungberg, who took charge for six games following Unai Emery's sacking, will stay on as a member of the coaching staff.
"I spoke to him after the game," Arteta added. "I told him who I want to bring in and I wanted to know what he was feeling. We decided the best thing would be for him to carry on with us."
"I knew him a little and we will start a new chapter and he was very positive."
Arteta also said midfielder Mesut Ozil was a part of his plans despite Ljungberg's unhappiness over the German's conduct during Arsenal's 3-0 defeat by Manchester City earlier this month.
Ozil kicked his gloves in frustration after being withdrawn in the 59th minute and Ljungberg said his unacceptable conduct would have prevented him from being selected at Everton had he been fit for the match.
"It's a question for Freddie," Arteta said. "I just wanted him to pick the best possible lineup for the game. You're not going to be judged on what you done in the past, positive or negative."
"We will try to put the most competitive team out, we are to be ready and nullify them as much as possible."