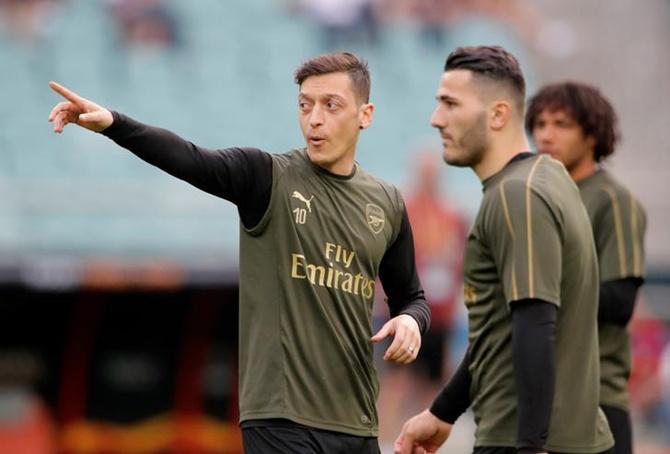 A man who tried to rob Arsenal players Mesut Ozil and Sead Kolasinac at knifepoint in a failed North London carjacking last July was sentenced to 10 years in jail on Friday.
The BBC reported that Ashley Smith, 30, was sentenced at Harrow Crown Court after admitting trying to steal watches worth 200,000 pounds ($255,440.00) from the Premier League players.
An accomplice, 26-year-old Jordan Northover, had also admitted involvement in the attack and was awaiting sentencing.
Judge Ian Bourne described Smith as a 'career criminal' who was well known to police.
Former Germany midfielder Ozil was driving his black Mercedes in North London when the car was boxed in by motorbike riders wearing helmets on July 25.
Video images showed Bosnian defender Kolasinac, who was a passenger, getting out of the vehicle and confronting the attackers.
Both players were then left out of Arsenal's team for the season-opening game.
Emery unsure whether Xhaka will play again for Arsenal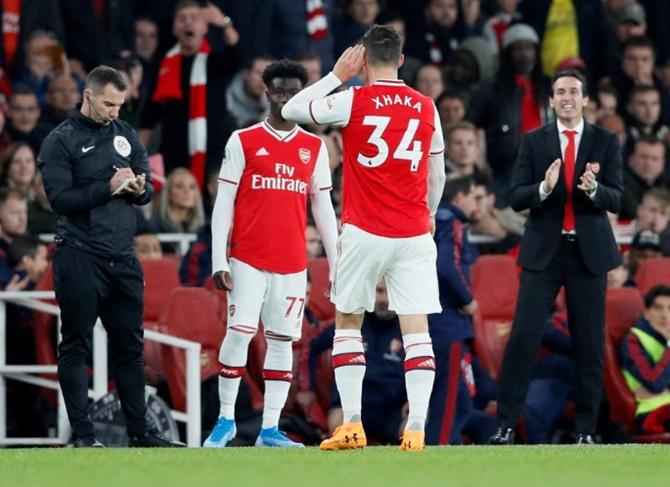 Arsenal manager Unai Emery said he did not know whether midfielder Granit Xhaka would play again for the club after the Swiss international swore at home fans and was stripped of the captain's armband.
Xhaka has not played since the Oct. 27 bust-up at the Emirates and Emery told reporters on Friday he had asked not to be picked for Saturday's Premier League match at Leicester City.
The manager said Arsenal would wait until Xhaka was in the right frame of mind to play for the club again but later indicated he could not be certain that would happen.
"We need a player like Granit Xhaka. But also, I don't know if he's going to play again," the BBC quoted the Spaniard as saying.
"I don't know if he is available in his mind to continue helping us and continuing defending the Arsenal shirt."
Asked about a possible transfer in the January window, the manager said he was not thinking about that because it was only November.
"We're going to play a lot of matches in November and December. We cannot change him in that two months. The club is speaking with him and we're going to decide how he is and how I'm thinking we use him."
Xhaka reacted angrily to home fans booing him after he was substituted during Arsenal's 2-2 draw with Crystal Palace at the Emirates Stadium last month.
With on-loan midfielder Dani Ceballos also injured and unavailable, Emery said Mesut Ozil — who has played only twice in the league this season — was in contention.
"(Ozil) is training well and I think he is now being consistent in the training, he is also helping and being positive. I am thinking he has a possibility to play tomorrow."
The captain's armband has been passed to Pierre-Emerick Aubameyang.
"Aubameyang is first (captain) because he is experienced and he has the respect of the dressing room," said the manager.
Brugge striker Diagne dropped and fined for missing penalty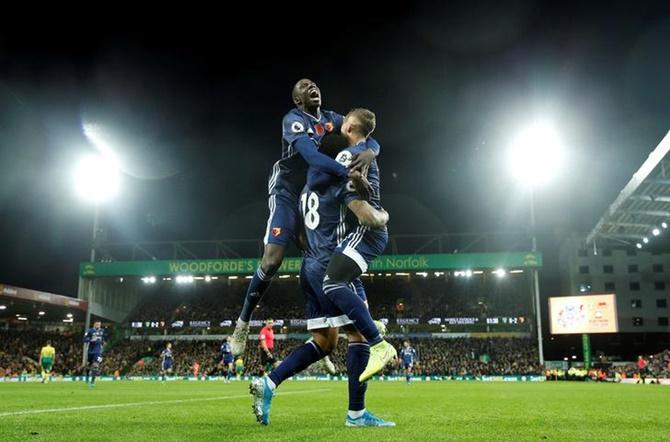 Club Brugge striker Mbaye Diagne has been fined and dropped after he missed a penalty that he was not supposed to take in the Belgian club's 1-0 Champions League defeat to Paris St Germain.
The striker got up off the turf after being fouled by Thiago Silva in the 74th minute at the Parc des Princes on Wednesday and took the kick himself, instead of designated penalty taker Hans Vanaken.
Yet his feeble effort was saved by PSG goalkeeper Keylor Navas.
It effectively cost his side a valuable point, leaving them with just two points from four matches in Group A.
The 28-year-old Senegal international has been fined and left out of the squad for Sunday's Belgian league encounter at Antwerp and coach Philippe Clement said he had yet to decide whether Diagne would play for the club in the future.
"It was a dumb mistake. A mistake that had consequences for the result and we are all very cross about it," he told a news conference on Friday.
"This sort of incident leads to emotions and there was a confrontation in the changing room after, but it was verbal and not physical. Diagne realised he made a mistake and did not argue back."
Clement said a strong punishment was needed and that Diagne's future at the club would depend on his reaction in the coming weeks. He is on loan from Galatasaray.
"We have had disciplinary incidents at this club in the past and players have been given a second chance. It is now up to Diagne to show that he accepts and understands the norms and values of our club," the coach said.
"He can still have a future with us although it depends on what he shows in the coming weeks."
Clement also told reporters that it was wrong to criticise Vanaken for not insisting on taking the kick.
"Some have suggested he didn't want to accept the responsibility but he told Diagne not to take the kick," Clement said.
"But when he realised this was not going to happen, he did not want to get into an argument on the biggest stage in the world. I'm proud of the way Hans dealt with the situation," the coach added.