News of all that's transpired on and off the football field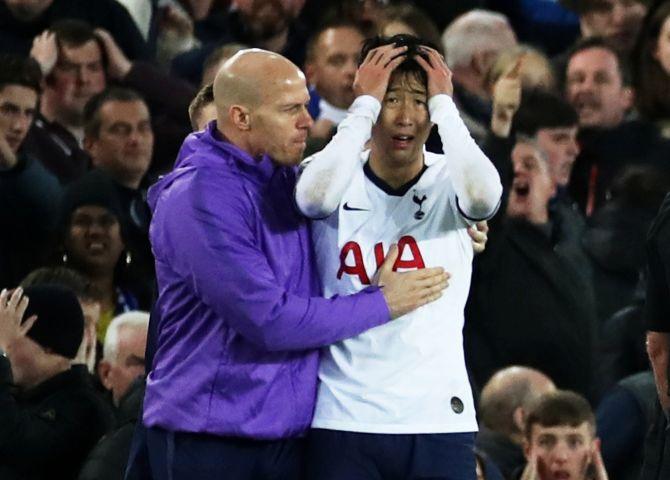 Tottenham Hotspur have successfully appealed against a red card shown to Son Heung-min for a tackle that led to Everton midfielder Andre Gomes breaking his ankle, so the Spurs striker can play in his side's next three games, the FA said on Tuesday.
Gomes suffered a fracture dislocation to his right ankle in the second half of Sunday's 1-1 draw at Goodison Park when he landed off balance at speed after the tackle from Son and then collided with Spurs full back Serge Aurier.
Referee Martin Atkinson initially showed a yellow card but then produced a red card -- an automatic three-match ban -- after a VAR intervention, with the Premier League stating Son had endangered Gomes's safety with his initial challenge.
"Son Heung-min will be available for Tottenham Hotspur FC's next three domestic fixtures after an independent Regulatory Commission upheld a claim of wrongful dismissal," the FA said in a statement.
Portugal international Gomes had surgery on Monday, and Everton said afterwards he was expected to make a full recovery.
Spurs' next domestic fixture is a Premier League home game on Saturday against Sheffield United.
Liverpool to field two different squads in two competitions simultaneously
Liverpool will field two different playing squads in the League Cup and Club World Cup in the space of 24 hours in December due to a lack of available dates to postpone their League Cup quarter-final, the Premier League club said on Tuesday.
The quarter-final against Aston Villa is set to be played on December 17 -- the same week Juergen Klopp's side travel to Qatar for the FIFA Club World Cup where they play their first match on December 18.
After knocking Arsenal out in the last 16, Klopp had threatened to pull the Anfield side out of the League Cup if they could not find a suitable date for the quarter-final tie.
"We will be utilising two playing squads simultaneously, with one squad participating in the FIFA Club World Cup in Qatar and another in the Carabao Cup," the club said in a statement.
"The club would like to take this opportunity to underline that while this is not an ideal scenario, it is an outcome which was arrived at with the best interests of the competition, our fellow clubs and ourselves as the sole motivating factor."
Liverpool said they had discussed alternative dates with the English Football League but could not find a suitable one that would not compromise the competition's schedule.
Bayern must 'pull themselves together' after Kovac sacking
Bayern Munich's Joshua Kimmich said there was no room for excuses from his side now coach Niko Kovac has been sacked as they look to make a fresh start under interim manager Hansi Flick in the Champions League at home to Olympiakos Piraeus.
Kovac was sacked by the Bundesliga champions after their shock 5-1 thrashing at the hands of Eintracht Frankfurt on Saturday which left them fourth in the table, four points behind leaders Borussia Moenchengladbach.
"We must pull ourselves together, we have no alibis anymore. An excuse from the coach no longer exists," Kimmich told a news conference on Tuesday ahead of the Group B match against the Greek side, who they beat 3-2 away two weeks ago.
"It's not so easy for Hansi, he hasn't had a lot of time. The main responsibility now lies with the players."
Bayern have had a far smoother ride in the Champions League than in the Bundesliga and they lead Group B with nine points from three games, knowing a victory on Wednesday will seal their place in the Champions League last 16.
Caretaker coach Flick revealed he will start veteran players Thomas Mueller and Javi Martinez against Olympiakos and said one of his priorities was to correct the team's defensive problems.
"The goals we conceded recently were not 'Bayern like' but today we trained today like we want to play," he said.
"Of course, you can't change everything immediately, but it's also about the selection with perhaps one or two tactical changes. Mueller is important for the club and has won everything. He can sweep the team along and lead them.
"The team needs to be active and take the initiative, we need to show the quality we have in the squad."