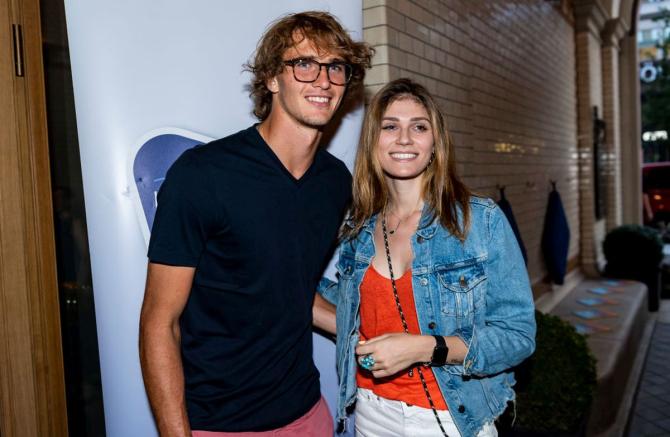 Alexander Zverev's ex-girlfriend has come out with a startling revelation against the German tennis star.
Former Russian tennis player Olga Sharypova, who dated Zverev from 2018 to 2019, has accused the World No 7 of physical abuse. However, the German tennis star denied the accusations in a post on his Twitter page.
This incident comes a day after another of Zverev's ex-flames, model Brenda Patea, revealed that she was pregnant with his child.
In a detailed Instagram post on Wednesday, Sharypova wrote, "In August last year, I ran out of the hotel barefoot, beaten. I stood on a New York street and did not know where to go and what to do. They tried to strangle me with a pillow, hit my head against the wall, twisted my arms and at that moment I was really afraid for my life," lovetennis.com reported.
"This was not the first situation, there were a lot of them," Sharypova, who has known Zverev since their junior tennis days, said of the physical abuse.
"But every time I tried to forget it and blamed myself for it. But then in August it was really scary. I was really scared for my life."
While the 23-year-old Sharypova did not name Zverev in her Instagram post, she confirmed to Russian publication Championship that Zverev was the man in question.
"Sasha's (Zverev's) parents didn't talk to me much. Whether they knew or not, I cannot say. As for mutual acquaintances, no one knew this… In general, for a long time I did not want to spoil Sasha's reputation."
In his response posted on Twitter, Zverev said, "The accusations are simply not true. We had a relationship, but it ended a long time ago. Why Olga is making these accusations now, I don't know."
When questioned about the timing of her Instagram post, Sharypova said, "I was going to tell about it. And I wanted to do it for a long time.
"It just so happened that it was on this day that two of his ex-girlfriends made loud statements. Boomerang returned to him today. For each of their actions, people must be responsible: be it a child or violence.
"Now I understand that people should be responsible for such actions. I don't want anyone to be in the same situation as me. If a person does not know how to build relationships, maybe they do not need to start?"