'I have certainly gained the respect of my rivals by consistently maintaining my ranking inside the top-10 mark.'
'I have beaten all these top players at least once and there will be no fear factor when I face them at Rio.'
P V Sindhu discusses her preparation for the Rio Olympics, the challenge she expects there and her rivalry with Saina Nehwal in an exclusive interview with Aruneel Sadadekar/Rediff.com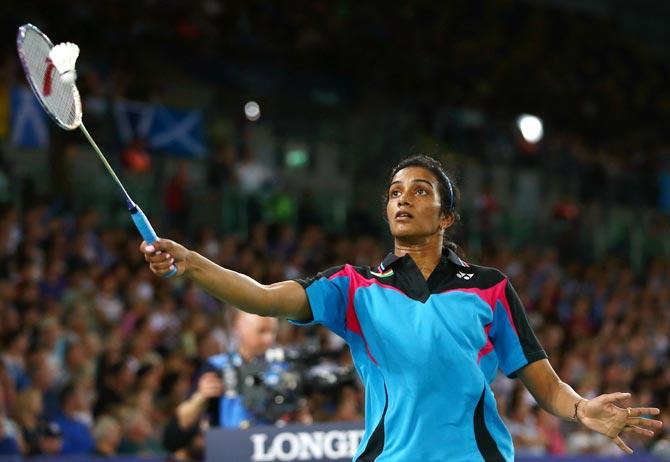 IMAGE: P V Sindhu. 'When I saw other Indian shuttlers go for the London Olympics I never thought I would playing at the next event in four years.'
For badminton ace P V Sindhu, "it's a dream come true."
The 20-year-old Hyderabad girl will make her maiden appearance at the Olympics in August.
Ranked 10th in the world, she has the herculean task of upstaging higher ranked opponents and winning a medal for India.
Sindhu and Saina Nehwal, who won a bronze at the London Games in 2012, are in the women singles draw as part of India's largest-ever badminton team of seven shuttlers.
How does it feel to qualify for the Rio Games?
When I saw other Indian shuttlers go for the London Olympics I never thought I would playing at the next event in four years.
It's been a dream come true. Tremendous hard work and dedication has made this possible.
While I am extremely excited, the main aim is to win a medal for India in Rio.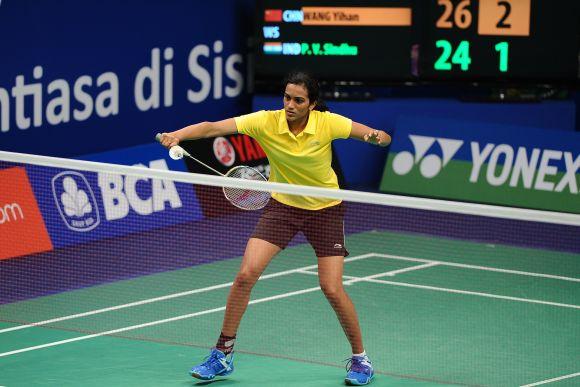 IMAGE: Sindhu in action at the Badminton World Championships in Copenhagen. Photograph: Nils Meilvang/Reuters
You are the only Indian to win two medals at the World Championships. Is it a confidence booster before you take on the world's best in Rio?
Definitely! Winning two bronze medals at the (2013 Guangzhou and 2014 Copenhagen) World Championships have instilled self-belief and confidence in me.
I have certainly gained the respect of my rivals by consistently maintaining my ranking inside the top-10 mark.
I can safely say that I have beaten all these top players at least once and there will be no fear factor when I face them at Rio.
Making your first appearance... Will emotions affect your performance?

(Laughs!) I hope not. I am training to grow physically as well as mentally. I have the guidance of Gopi Sir (National Coach Pullela Gopichand) and I am confident of giving my best in Rio.
Gopichand recently mentioned that the poor results of Indian shuttlers in recent times are due to fatigue and a few niggles.
Absolutely, this year has not been satisfactory for me. I have lost a lot in the quarter-finals.
Fatigue did affect my game. The aim now is to work on my stamina and come back sharper ahead of the Olympics.
Women's singles at Rio will be tougher than it was at London. Saina and you have to face the Chinese, Thais, Koreans, Japanese and Spanish ace Carolina Marin.

Every game will be a final for us. All these players can beat any other player on their day.

All of them are medal contenders and I will be hoping to make it count when the opportunity comes.

Also, it is not easy to prepare for my competitors because even if I had beaten a certain shuttler she would have improved by leaps and bounds during our next meeting.

So, for me, the key is to develop my game in these remaining two months before the Games.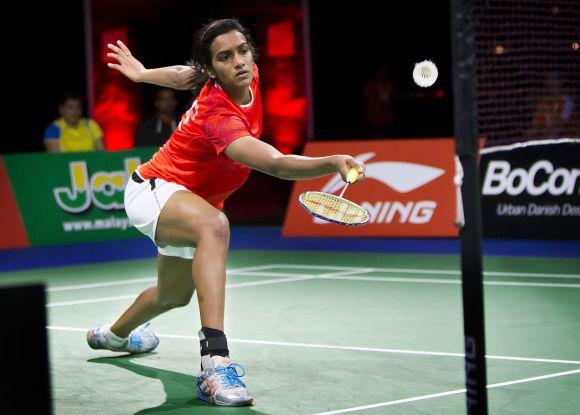 IMAGE: Sindhu dribbles at the net during the Badminton World Championships in Copenhagen. Photograph: Nils Meilvang/Scanpix Denmark/Reuters
Tell us about your training regimen and focus.
The focus is to develop mentally and physically. So the day starts at 6.30 am with two hours of training followed by a break.
I again train for two hours in the afternoon. The morning training is all on the badminton court to improve my game.
In the evening, it is mainly in the gym with weights and cardio to develop my strength and endurance.
Gopi Sir also makes me spar with men players to develop my physical and mental game.
Talking about sparring, we know you train in Hyderabad and Saina in Bengaluru. Don't you think sparring together will improve you both as players?
I am comfortable here with Gopi Sir. She is training with Vimal Sir (Vimal Kumar). I think it is fine like this.
Sparring with top men players has helped me improve my game. I can't speak for her.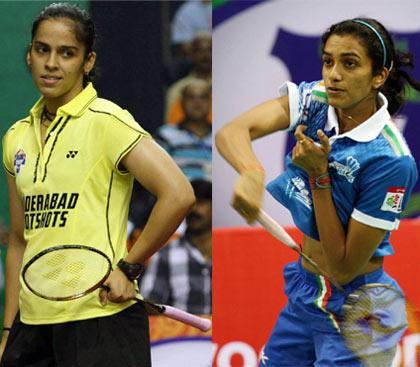 Tell us about your rivalry with Saina.
Well, off-court, we are friends. But on court the goal is to outdo each other and win at all cost.
We have accepted that there will be a buzz created whenever we compete against each other. It is quite normal and we enjoy it.
Saina, for me, will be India's biggest hope in badminton, considering her medal in London. Her experience from the last Olympics will certainly benefit her.
This will be India's largest badminton contingent, with seven shuttlers participating. What are your realistic expectations from Indian badminton in Rio?
I am proud to be part of a strong team. We will all be together, but, again, will have to fight our own individual battles.
We are all confident of bagging medals. Like I said, Saina will be the key.
Kidambi Srikanth is also doing well among the men, but then he too will have tough competition.
Jwala-Ashwini (Jwala Gutta-Ashwini Ponnappa in the women's doubles) have participated earlier and have experience on their side.
Which is that one player you are wary of playing against in Rio?
It has to be Thailand's Ratchanok Intanon. She is the World No 2 and playing very well. Also, World No 1 Marin is a threat considering her all-round game.
I repeat, anyone can win on their day.
Chinese players have always dominated badminton. Do you expect them to do the same at the Olympics?
No. I know they are very strong and are backed by extremely good coaches, who are themselves Olympic and World champions. But now it is more of a level field with every player from the top 10 rankings having an equal chance of bagging a medal.