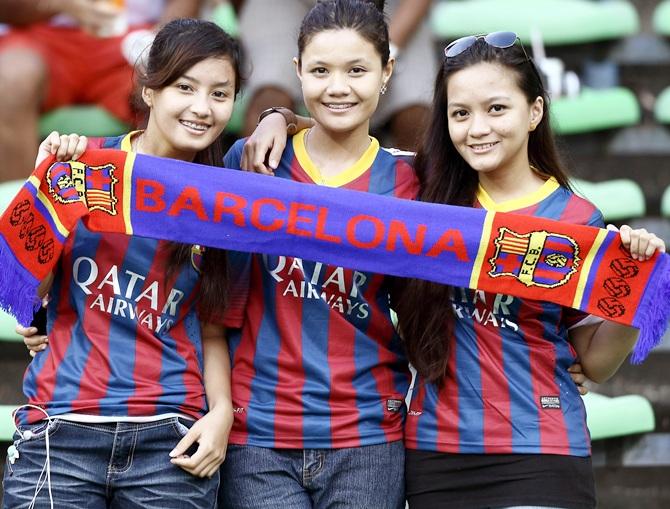 Barcelona fans cheer during the friendly match between FC Barcelona and Malaysia at Shah Alam Stadium in Kuala Lumpur. Photograph: Getty Images
Visits by major English and European clubs to Asia are helping to boost the game in the region rather than harming it, Alex Soosay, the general secretary of the Asian Football Confederation, said.
Say no to Premier League 'circus games'
Last week fans in Malaysia called for a boycott of this month's tour matches involving Liverpool and Tottenham Hotspur because they were nothing more than "circus games" detracting from their own domestic league games.
But Soosay said the visits were of huge benefit to Asian football as they gave fans the chance to see some of the world's best players while the clubs helped boost the local leagues with their expertise, commitment and backing.
He said they contributed to Asian soccer with coaching clinics, and by funding the building of pitches and other facilities.
"Look for example, at our relationship with Chelsea. They have signed a Memorandum of Understanding with us and it adds value to the AFC," Soosay told Reuters.
"They come to our countries, build pitches -- Chelsea build blue pitches -- and those pitches are very helpful for the development of our youngsters.
"We work very closely with the English Premier League who have been very supportive of us and help the kids with their Premier Skills programme."
Over the last decade many leading European clubs have gone to Asia either at the end of the season or on pre-season tours where they have huge fan bases, and Soosay welcomes more interaction between the clubs and the Asian federations.
"They have travelled to Indonesia, to Malaysia, to China, where football is really taking off.
"If you go to China you hear 'Chelsea, Chelsea'. If you go to Malaysia you hear 'Manchester, Manchester'. This kind of interest is very encouraging, not only to those ardent followers but also for the children."
He said he disagreed with those supporters who wanted to boycott the games in his own country, Malaysia.
"There is great popularity (for the visiting clubs) and that's important. I don't believe that this popularity will effect in any way or damage in any way the domestic leagues, it can only encourage them," he added.