Albania need to discover some scoring form against Romania
'I think that if we are able to score the goals that we haven't against Switzerland and France then we could get the three points that may get us into the knockout rounds'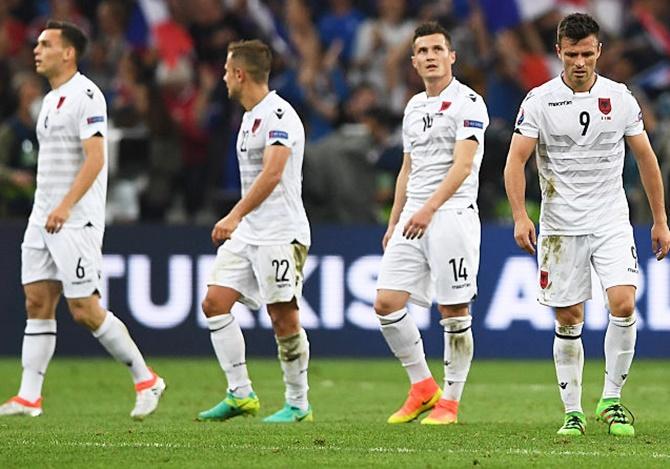 IMAGE: Albanian players look dejected. Photograph: Laurence Griffiths/Getty Images.
After a couple of solid defensive performances in defeats by Switzerland and France, Albania need to discover some scoring form against Romania, their Italian coach Gianni De Biasi said ahead of Sunday's vital Euro 2016 Group A fixture.
The Albanians held their own for long spells in the opening 1-0 loss to the Swiss and conceded late goals in a 2-0 reverse against hosts France, but they created precious little up front in either match.
The Romanians also need to win the do-or-die fixture in Lyon to keep alive any hopes of progressing after a fortuitous 1-1 draw against the Swiss which followed a 2-1 defeat by France.
"I believe we can qualify," De Biasi told reporters as his team, who are at their first major tournament, prepared for what Romania striker Florin Andone described as a matter of "life and death".
"I think that if we are able to score the goals that we haven't against Switzerland and France then we could get the three points that may get us into the knockout rounds," said De Biasi.
The 60-year-old De Biasi acknowledged that Albania needed to avoid lapses in concentration which cost them dearly in both defeats.
Of the loss to France in Marseille, he said: "My team resisted right until the end but we didn't defend throughout, especially in the first half and at the start of the second.
"When you don't take your chances and score goals, you don't get big results. My team held up pretty well and we're disappointed to concede a goal a minute from the end."
Romania's Razvan Rat, midfielder Bogdan Stancu, the nation's first player to score twice in a European Championship, and Mihai Pintilii are all expected to shake off minor knocks.
Andone, dropped for the Swiss game after he was substituted against the French, could return to the starting line-up against the Albanians after his replacement Claudiu Keseru had a quiet game against Switzerland.
"We must show the mentality of winners against Albania," Andone told Romania's Digi Sport television.
"It will be very difficult because Albania are a very good team, they run a lot and are very aggressive.
"But we are aware that a victory could send us through so we will give it a 100 per cent effort."