Violence briefly erupted in Nice, where Northern Irish and local fans hurled glass bottles and chairs at each other late on Saturday.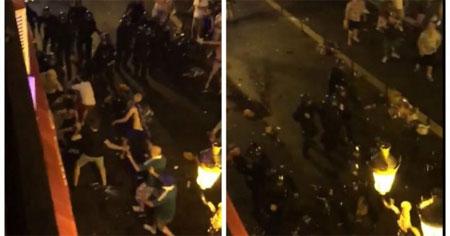 Seven people were injured, including one man with a serious head injury, French police said. According to a Northern Ireland police officer accompanying fans at the scene, French riot police moved in after local Nice youths hurled bottles at Northern Ireland supporters in cafes near the central Place Massena.
"About 20 to 30 Nice youths started throwing bottles at the Northern Ireland fans. Some bottles were thrown back, some punches were thrown," the officer said.
"French police arrived to contain the situation."
Dozens of riot police were on the pedestrian street after the incidents ended.
There are an estimated 10,000 Northern Ireland fans and several thousand Polish in the city for the game.
Earlier, hundreds of English and Russian fans were involved in violence before their Euro opening encounter on Saturday, that left one Englishman in a critical condition in hospital.
Image: Violence in Nice, involving Northern Ireland fans and locals at a bar on Saturday
Photograph: Joe.co.uk/Twitter