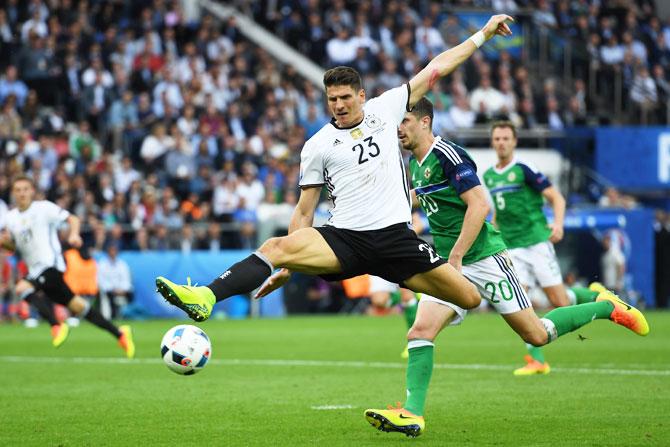 IMAGE: Germany's Mario Gomez stretches for the ball during the Euro 2016 Group C match against Northern Ireland Parc des Princes in Paris, on Tuesday. Photograph: Shaun Botterill/Getty Images
Germany waited for their last group match at Euro 2016 to field a proper striker in their starting line-up and were rewarded when Mario Gomez did just enough to give them a 1-0 win over Northern Ireland at the Parc des Princes on Tuesday.
- Euro: Germany beat Northern Ireland 1-0 to win group
That goal from a player who had gone 1,454 days without starting a competitive game for his country sent the world champions into the last 16 as Group C winners with arguably their best performance so far in the tournament, the scoreline not reflecting their absolute dominance.
Coach Joachim Loew had picked attacking midfielder Mario Goetze as his lone striker in the starting 11 for the first two group games, a 2-0 win over Ukraine and a goalless draw with Poland.
Goetze looked harmless in both those matches, Germany's goals coming from defender Shkodran Mustafi and substitute midfielder Bastian Schweinsteiger.
The baby-faced 24-year-old, who scored Germany's winning goal in the 2014 World Cup final against Argentina, was back on the left side of the midfield against Northern Ireland and was not entirely convincing.
Loew substituted him 10 minutes into the second half.
He had said Goetze's profile was interesting because teams needed players who could dribble past defenders in one-on-one situations to break open packed backlines.
Having Gomez up front on Tuesday, however, made a real difference, not only because he scored his fourth goal for Germany at a European Championship, which puts him one shy of Juergen Klinsmann's German record of five.
The tall, powerful forward kept weighing on Northern Ireland's defence, creating space for others, notably Thomas Mueller, who hit the woodwork twice before the break.
Looking safe at the back with their impressive pair of Jerome Boateng and Mats Hummels, Germany also shone in the midfield with fine playmaking by Ozil and the entire team appeared to step up a gear.
What they need to do next is convert more chances, which they failed to do against a brave but limited Northern Ireland side, partly because the Parc des Princes pitch, one of the neatest in the tournament, became soggy when it started to rain in the second half.
"We had chances in the first two games and did not convert enough of them," Gomez acknowledged.
"The same happened today but we won and we win the group, that's all that matters.
"Now we'll see who we play next and, hopefully, the goals will come and we'll go a long way in this tournament."