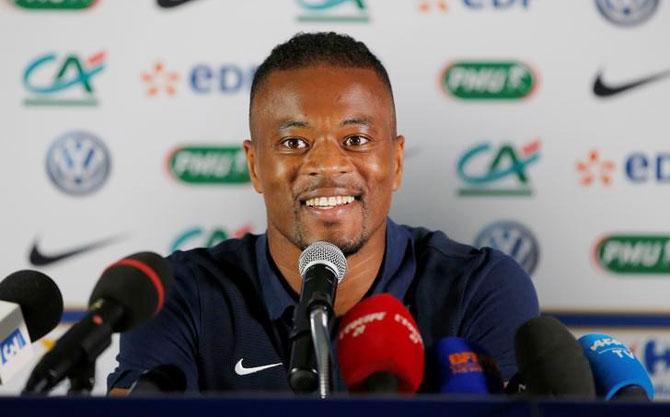 IMAGE: France's veteran national footballer Patrice Evra attends a news conference. Photograph: Vincent Kessler/Reuters
It has been a tortuous journey for France's Patrice Evra, once blamed for playing a dark role in the worst scandal in the history of the national team but now in the limelight as the wise old man of a team with high hopes.
Leading by example and always careful to send out a positive message, Evra, the oldest player in the France squad at 35, offers protection to the youngsters and his experience to all.
"He is very important to us because he's been through many things, has won big titles and played for big clubs", said midfielder Moussa Sissoko.
"When he talks, you listen".
Playing in his fifth major tournament, Evra has an impressive resume, featuring five Premier League titles and a Champions League win with Manchester United as well as two Serie A titles with Juventus, his current club.
So vital is Evra to France that there was no debate on whether he should remain in the starting lineup despite giving away a penalty in a dismal performance in Les Bleus' opening 2-1 win over Romania at Euro 2016 on Friday.
"I had the feeling there were 12 Romanians out there," he said afterwards, not sounding a bit worried about his immediate future.
"It was tough because we were under a great deal of pressure but this will allow us to play more freely now."
France coach Didier Deschamps, who had Evra in his team when he coached AS Monaco in the 2004 Champions League final, has the inexperienced Lucas Digne as his only other option at left back.
It would thus be surprising if Evra did not start France's second Group A game against Albania on Wednesday in Marseille before they face Switzerland in their final game in the section.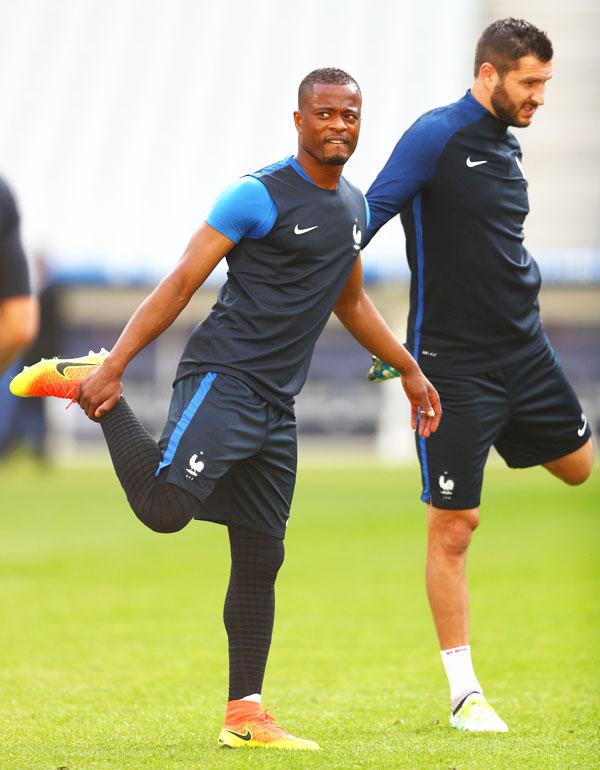 IMAGE: Patrice Evra warms up during a training session. Photograph: Clive Rose/Getty Images
It was a very different story six years ago at the World Cup in South Africa, when Evra was captain of the team who went to their bus, pulled the curtains shut and refused to train at their base which had the misnomer of the "Field of dreams".
The unprecedented strike was aimed at protesting against a decision by the French Football Federation (FFF) to kick striker Nicolas Anelka out of the squad after he insulted then coach Raymond Domenech at halftime of a game against Mexico.
Evra's first comments after that were to blame the "traitor" inside the squad who had leaked Anelka's crude words to the press. His behaviour during that fiasco resulted in a five-match ban handed down by the disciplinary committee of the FFF.
The traumatic events that unfolded on the shores of the Knysna lagoon prompted a nationwide debate about what it meant to wear the France colours.
It took years for the wounds to heal and for the France team to redeem themselves but now the fans are back behind Les Bleus and Evra can be seen chatting with them and cheerfully signing autographs.
Once reluctant to talk to the media, he shows up at news conferences in a relaxed mood and, after the game against Romania, he was one of few France players to make a lengthy stop in the mixed zone where journalists meet players.
"I always said I was ready to take blows if it could protect the other players," said Evra, who had used a similar formula to explain his attitude during the Knysna scandal.
"When I feel that one of the players is not feeling well, it hurts me."
Evra said his approach to life had changed at the World Cup in Brazil two years ago after he read a book about the power of mindfulness by NBA coach Phil Jackson.
"It helped me a lot," he told Le Parisien newspaper.
"I see things differently, I see people differently. You may laugh but I also see trees differently. I can feel they're alive."