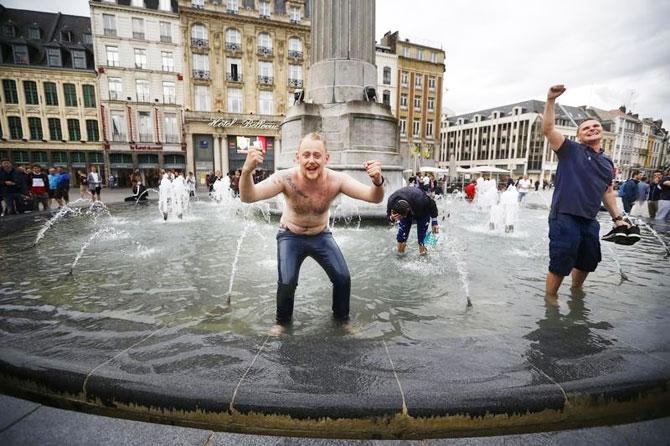 IMAGE: England fans celebrate their team's Euro 2016 Group B match win over Wales in a fountain in Lille on Thursday. Police observed as drunken England fans gathered near the train station following their team's important win against Wales. Photograph: Wolfgang Rattay/Reuters
Beer-swilling English football fans bathed in public fountains on Thursday evening in the northern France town on Lille to celebrate their team's victory over Wales in nearby Lens, with little sign of the tensions seen there in previous nights.
- Euro: Sturridge's late strike helps England edge past Wales
Police were braced for the kind of violence that threatened England and Russia with expulsion from the tournament and led to the use of tear gas on Wednesday to disperse rowdy English fans in Lille.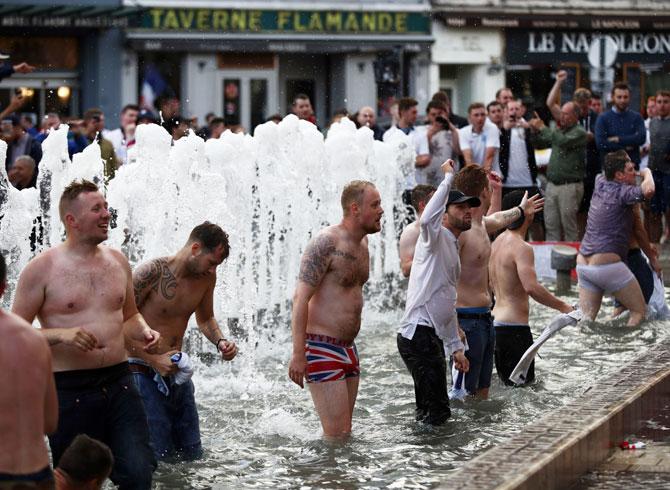 IMAGE: England fans chant songs and play in a fountain in Lille. Photograph: Carl Court/Getty Images
But on Thursday, fans flooded back from Lens singing and playfully kicking a football around as they exited Lille's rail station. Occasional showers of rain also helped keep the atmosphere calmer.
- Euro 2016: Bold Hodgson reaps reward as Wales sit back
Police had reportedly detain one of a group of fans who were fighting in Lille.
In general, though, police kept a low profile while monitoring what had in recent days been a meeting point, and an occasional flashpoint, for fans.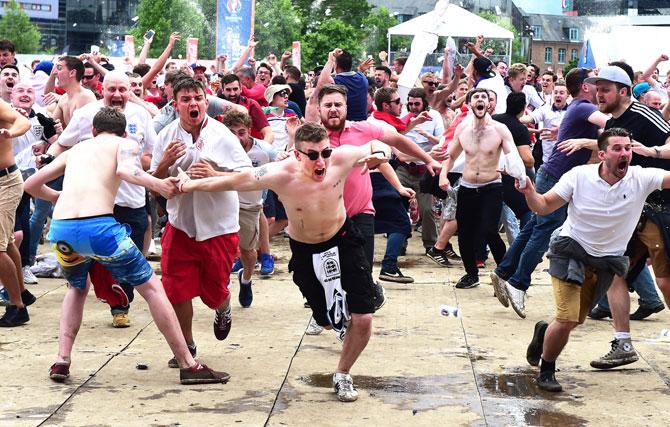 IMAGE: England fans celebrate at the Fanzone in Lille after Daniel Sturridge netted England's late winner. Photograph: Charles McQuillan/Getty Images
"It's OK. They're just in high spirits. As long as it stays that way, no problem," one police officer said.
Thursday afternoon's Group B match between England and Wales in the Euro 2016 group has been dubbed 'The Battle of Britain'.
On Thursday morning, police checked fans boarding trains from Lille to Lens to ensure none were travelling with alcohol, leading to long queues.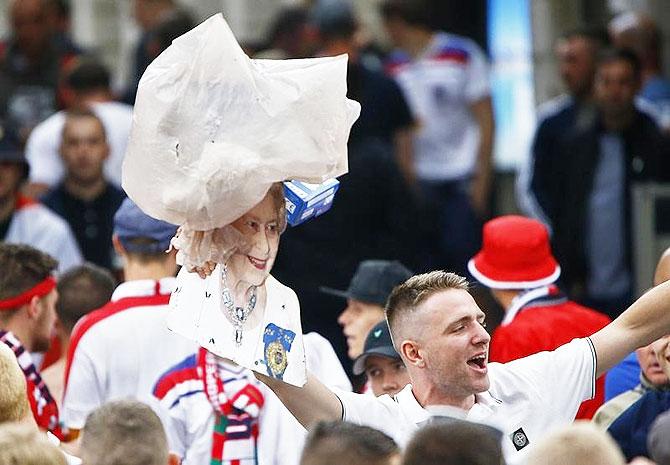 IMAGE: A garbage bag, thrown amongst fans, flies over a cutout of Britain's Queen Elizabeth II as fans celebrate their team's win over Wales in Lille. Photograph: Wolfgang Rattay/Reuters
A heavy police team carried out similar checks in pouring rain on arrival 45 minutes later in Lens.
Martin Glenn, the chief executive of England's Football Association, had urged England fans to show "consideration and respect" as French police were already pre-occupied with preventing any militant attacks.
France has suffered several attacks by Islamist militants in the past two years, including a shooting rampage in Paris in November that killed 130 people. Two French police officials were killed on Monday by a man claiming allegiance to Islamic State.