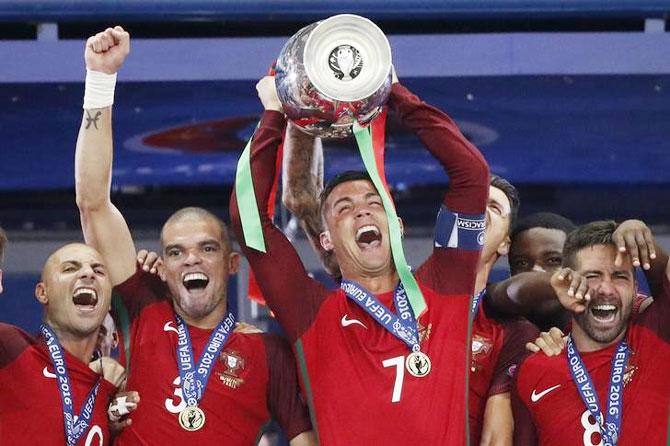 IMAGE: Portugal's Cristiano Ronaldo celebrates with Pepe, Ricardo Quaresma and Joao Moutinho and the trophy after winning Euro 2016. Photograph: Carl Recine/Livepic
Cristiano Ronaldo-led Euro 2016 champions, Portugal inched closer to the top-five after climbing two places to 6th in the FIFA world rankings released on Thursday.
Propelled by an impressive European Championship campaign, impressive Wales and Iceland saw a jump in double-digits -- Wales climbed 15 places to move into 11th, two places ahead of England and Iceland's fairytale at the Euros saw them climb 12 places to 22 on the table.
In Wales's first major tournament since 1958, Chris Coleman's charges reached the last four in France lost to eventual winners Portugal.
England, the 1966 World Cup winners, exited in the round of 16 after a humiliating defeat to Iceland which saw them drop two places to 13th.
Iceland, the smallest nation ever to have qualified for the European Championship, with a population of 330,000, saw their fairytale run end in the quarter-finals but took a huge leap in the rankings.
There were no changes in the top five rankings with Copa America finalists Argentina retaining top spot, followed by Belgium, Colombia, Germany and Copa winners Chile.
Five times World champions Brazil, who failed to progress past the group stages of Copa America for the first time since 1987, are on the brink of dropping out of the top 10, ranked at ninth, ahead of Italy.
European Championship finalists France jumped 10 places to move to 7th, one place behind winners Portugal.
Top 10 (last month's positions in brackets)
1. Argentina (1)
2. Belgium (2)
3. Colombia (3)
4. Germany (4)
5. Chile (5)
6. Portugal (8)
7. France (17)
8. Spain (6)
9. Brazil (7)
10. Italy (12)