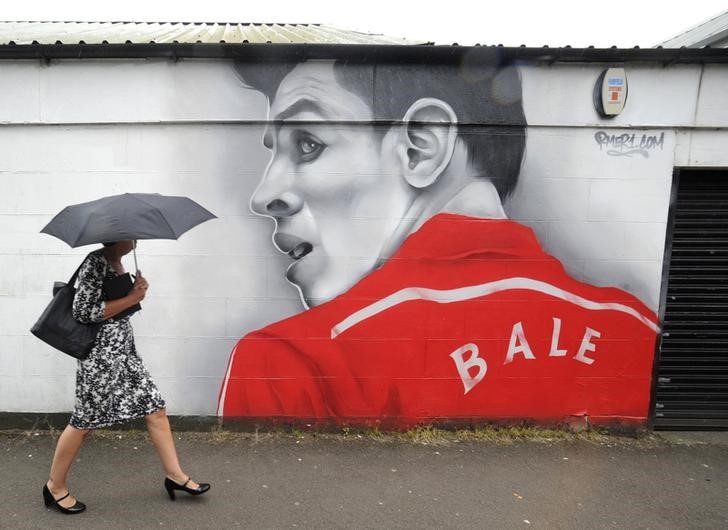 IMAGE: A mural with an image of Wales' Gareth Bale on the side of the Hearing & Mobility shop in Whitchurch, the suburb that Bale went to school in Cardiff, Wales. Photograph: Rebecca Naden/Reuters.
Wales will move higher than their richer rivals and neighbours England when the new FIFA rankings are announced after Euro 2016, the first sign for what, many predict, will be a bright future after they made history at the tournament.
Playing in their first finals since 1958, the Welsh reached the last four of a major tournament for the first time and are expected to move up close to the top 10 countries in the world rankings.
Playmaker Gareth Bale is among those who believes the success story will continue, especially since many of the players who lost 2-0 to Portugal in the semi-finals are coming into their prime.
"We can be a better side from it. We've grown in confidence, we've grown in stature and I think we'll be more respected," he said. "We can hold our heads high and give it a right go again.
"Our hunger is there more than ever to get back (to major tournaments). It hurts now but we've enjoyed it and we feel there's still a lot more to come."
"There's more improvements from us and come the World Cup qualifiers - which are not too far away - we'll get back to working hard and doing what we do best."
Age is on their side. Bale and midfielder Joe Allen are 26 and the talented Aaron Ramsey is a year younger at 25. Defenders Neil Taylor and James Chester are 27 while Ben Davies, also at the back, is only 23.
More seasoned campaigners captain Ashley Williams (31) and midfielder Joe Ledley and goalkeeper Wayne Hennessey (both 29) will also be around for the 2018 World Cup campaign which begins in September.
The Welsh have been drawn in a group which includes fellow Euro 2016 finalists Austria and Ireland, plus Georgia, Serbia and Moldova.
OPTIMISM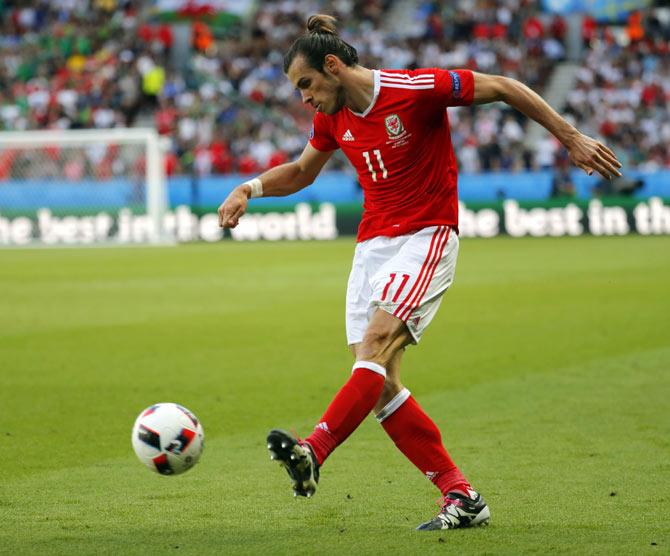 IMAGE: Wales' Gareth Bale in action. Photograph: Stephane Mahe/Reuters.
But there are other reasons for optimism and hope that this run of success can continue.
For years Wales produced some of Britain's most talented players such as John Charles, Ian Rush, Mark Hughes and Ryan Giggs, all of whom would have walked into the England teams of the day. But as a team, the country was unsuccessful.
That has now changed. While manager Chris Coleman must take much of the credit for that, the seeds of revival were sown by a previous manager John Toshack on taking over the national team for the second time in 2004.
The former Liverpool and Wales forward dismissed a generation who had failed to live up to expectations and put his faith in youth, giving 14 of the squad who appeared at Euro 2016 their debut. Together they have grown up together.
Toshack also ordered under 21 manager Brian Flynn to scour Britain for players with Welsh eligibility, rather like Jack Charlton did with Ireland in the 1990s.
Williams and forwards Sam Vokes and Hal Robson-Kanu are among nine of the squad to have been born outside Wales, qualifying under the grandparents' rule.
Toshack's successor Gary Speed made it mandatory that all players learnt the words to the inspiring national anthem in Welsh.
Coleman's Welsh-speaking assistant Osian Roberts now insists that players from under 16 level upwards are briefed, ensuring that the next generation feel the same passion.
Wales also appear a much tighter and more relaxed unit than their more glamorous and better paid English rivals who were knocked out by unglamorous Iceland in the second round in France.
While supporters were told about Wales' off-field activities -- like Chris Gunter winning the squad's table tennis tournament and Ben Davies securing the Fifa PlayStation title -- a secret England camp refused to reveal even inconsequential details like who won the players' darts match.
The challenge is to keep Welsh football at this level.
The country's Football Association, which made a profit of 20,000 pounds ($25,916.00) in the last financial year, should receive 14.5 million pounds ($18.79 million) for reaching the semi-finals, although six million pounds ($7.77 million) of that was spent in preparing the team.
That should help their progress although the example of England, who pay their manager better than any other country in the world, proves that money does not automatically bring success.
As their prepare for a celebration homecoming in Cardiff on Friday, Wales should heed the warning of 2004 European Championship winners Greece, the 150/1 outsiders who also emerged from footballing nowhere.
They too returned to a tickertape parade in their homeland, only to then fail to qualify for the 2006 World Cup and crash out of the 2008 European Championship without gaining a point. They also failed to qualify for Euro 2016.