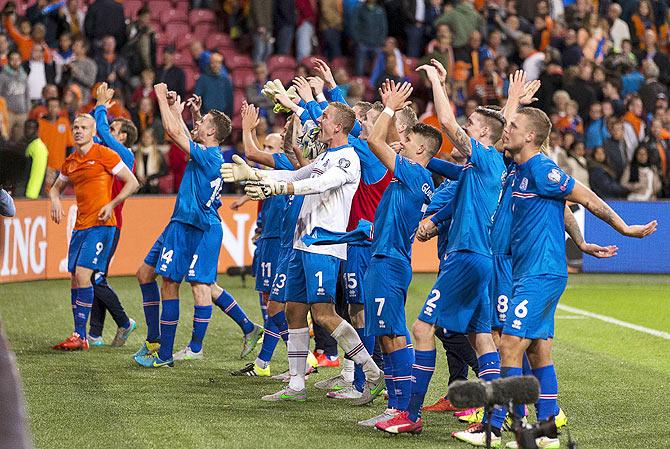 IMAGE: Iceland's team celebrate their victory. Photograph: Michael Kooren/Reuters.
Iceland joint-coach Heimir Hallgrimsson likened his team to an army on Sunday heading for a "win-win" second-round battle with England at Euro 2016.
Iceland are the smallest country at the tournament with a population of just 332,000, the size of a city such as Leicester whose club won the English Premier League title this season.
England boasts more than five times as many football players as their opponents' population. But the Icelanders finished second in Group F after 1-1 draws with Portugal and Hungary and a 2-1 win over Austria. They are talking tough.
"We are too few to have an army. We will be probably easily be defeated if we go to war - like in manpower. So these guys are the Icelandic army," Hallgrimsson told reporters.
"And that's why everybody is supporting them, you probably can correlate that to having an army."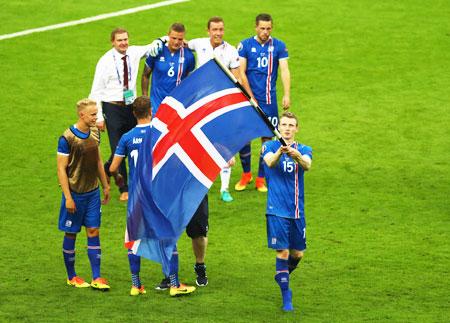 Iceland is one of the few countries without an army although it is a member of the NATO alliance.
"This game is a win-win game. They've already won the hearts of all Icelanders for their perfomance. I think with a good performance against England they will always be winners," said Hallgrimsson, who is in joint charge with Swede Lars Lagerback.
"If they beat England, their lives and all of our lives will change, Icelandic football's reputation will go up and the way we will approach football will be different."
He added: "In life, you have to take your chances and there are no bigger chances for this in Icelandic football. Whichever way it goes, these players are winners already."
Iceland have scored more goals in the tournament than England -- four compared to three -- and Hallgrimsson said that a clean sheet on Monday would put them in a good position.
"We are not afraid of the physical battle. The boys have shown they can match everyone in that area," he said. "We have scored goals in every game so if we can avoid conceding against England, the day will be good."
Lagerback said he expected England to have more of the ball in the game in Nice. The winner will take on hosts France in the quarter-finals.
"I expect England will have a little more possession but you never know," he said. "It's also very hot, so how the game looks will depend a little on the temperature. I'm looking for something like the three previous games."
IMAGE: Iceland's Jon Dadi Bodvarsson leads celebrations with his national flag after victory over Austria in the Euro 2016 Group F match at Stade de France in Paris.
Photograph: Clive Mason/Getty Images