IMAGE: France's coach Didier Deschamps during training. Photograph: Charles Platiau/Reuters.
In September 1998, the France players nearly created a diplomatic incident before a game against Iceland when several of them burst out laughing during the national anthems.
Eighteen years on, the topic resurfaced at a news conference before Sunday's European Championship quarter-final between the two teams.
Didier Deschamps, now the France coach, captained the side that day in Reykjavik, the newly-crowned world champions starting their qualifying campaign for Euro 2000 with a slightly embarrassing 1-1 draw.
Many people in Iceland felt the France players' attitude that day showed a lack of respect for their country, an Icelandic reporter told Deschamps at Saturday's news conference.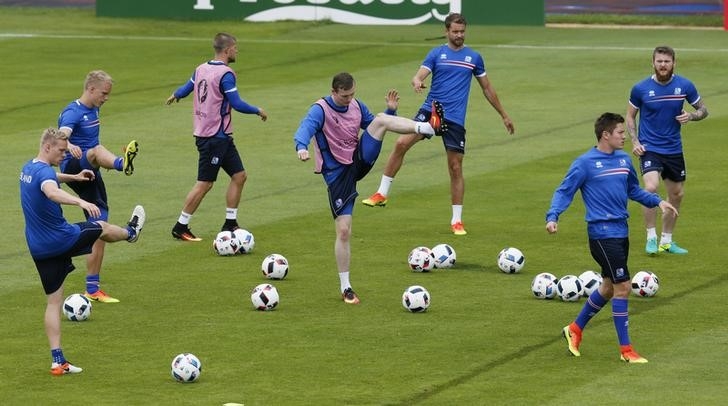 IMAGE: Iceland's team during a training. Photograph: Robert Pratta/Reuters.
"I remember, yes, but your interpretation is wrong," Deschamps replied.
"Never did we make fun of Iceland or of their anthem. It's just that the one who was supposed to sing the French anthem was different from what we were used to and that made players laugh but it was during our anthem, not yours."
Video footage confirms Deschamps' version, showing some players, notably goalkeeper Fabien Barthez and defender Bixente Lizarazu, laughing while listening to an opera singer in a tuxedo performing the Marseillaise in a rather unusual manner.
"It brought us down to earth," Deschamps said of the match, in which the world champions trailed 1-0 after a Rikhardur Dadason goal on 33 minutes, needing an equaliser by Christophe Dugarry three minutes later to avoid defeat.
Many in France had forgotten about that 1998 match but not in Iceland. The country's new president, Gudni Johannesson, who was in the stands of the Laugardalsvollur stadium, described it as an "unforgettable day" in an interview with French sports daily L'Equipe.
France went on to win Euro 2000. Iceland would have to wait 16 years before becoming the smallest team to appear at the finals of a major tournament but have known since that day that they should not be afraid of any team.
Johannesson said he would be in the stands for Sunday's game at the Stade de France. It is safe to bet nobody will be laughing during the anthems, and certainly not Deschamps.