'A machine is a machine'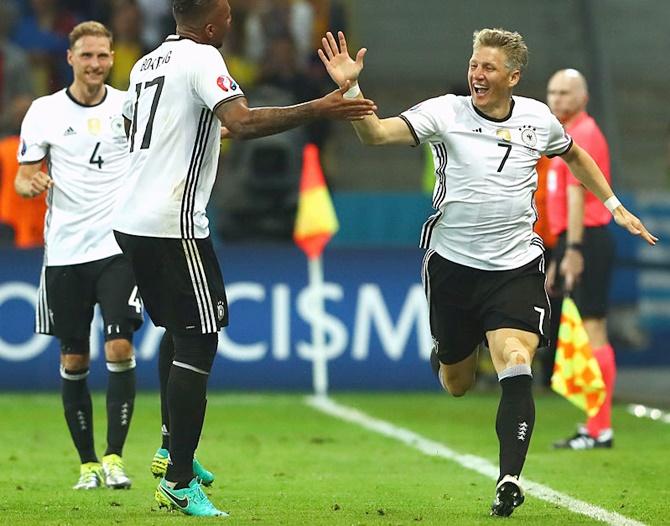 IMAGE: Bastian Schweinsteiger, right, of Germany celebrates scoring with his team-mate Jerome Boateng during the Euro 2016 Group C match against Ukraine at Stade Pierre-Mauroy, in Lille, France. Photograph: Alexander Hassenstein/Getty Images.
Never a man of many words, Ukraine coach Mykhailo Fomenko could find no other reason to explain his side's spirited but ultimately vain attempt to hold off the German steamroller in an opening Euro 2016 Group C game that ended 2-0.
Euro 2016: Superb Germany overpower Ukraine to record 2-0 win
"We just couldn't manage it," he told a news conference, despite some enterprising wing play that gave the Germans a test in the first half and a few jitters in the dying minutes.
"Germany is a machine," he shrugged, when pressed for how the promise of the first half -- when they had an effort cleared off the goal line -- failed to translate into a result.
"This team is a machine full of ideal players."
Fomenko brought on fresh legs up front midway through the second half, swapping out Roman Zozulya and creative youngster Viktor Kovalenko for Yevhen Seleznyov and Olexandr Zinchenko, but they made little impact on an injury-hit German defence that played itself in after a nervous opening period.
"We just didn't take our chances," said Sevilla's left winger Yevhen Konoplyanka, who with the speedy Andriy Yarmolenko on the right, created Ukraine's best moments.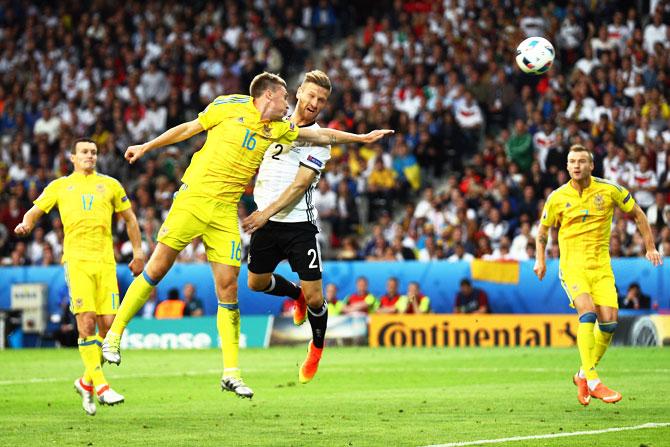 IMAGE: Germany's Shkodran Mustafi heads the ball to score his team's first goal against Ukraine during their Euro 2016 Group C match at Stade Pierre-Mauroy in Lille on Sunday. Photograph: Paul Gilham/Getty Images.
A feisty final few minutes might have given Ukraine some hope but Germany captain Bastian Schweinsteiger, who started on the bench after recently returning from injury, put paid to that, coming on in stoppage time to smash home a Mesut Ozil cross that left the Ukrainians shell-shocked.
Fomenko can take credit for a solid team performance from a squad that has been rattled by the rivalries between Kiev and Donetsk rippling out from Ukraine's civil war.
Yet he had to concede that they had made little real impact on the Germans: "We didn't manage to prevent our opponents scoring," he said. "A machine is a machine."
Ukraine, in only their second European Championship after qualifying as joint hosts four years ago, will have a better chance of victory when they visit Lyon on Thursday to face Northern Ireland, 1-0 losers to Poland earlier on Sunday.
"What matters now is picking the lads up psychologically," Fomenko said adding that if he had to take a positive away from the bruising encounter with the world champions it was that his side had picked up only one yellow card.