A tried and tested formula for a so-called minnow to succeed at the European championship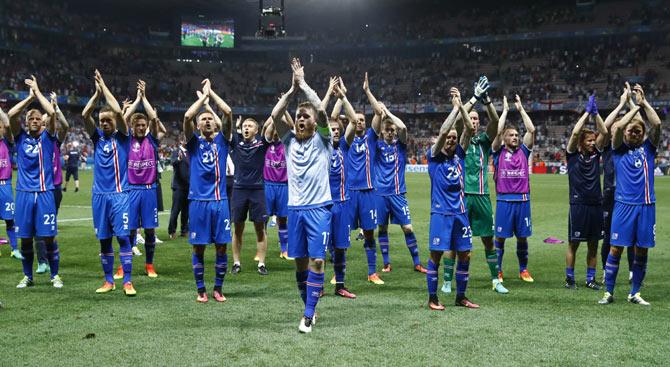 IMAGE: Iceland's players acknowledge the crowd after winning their game against England. Photograph: Michael Dalder/Reuters.
Take a tactically disciplined defence, add an eye for a timely counter attack and top off with boundless team spirit and a relentless work ethic and you have a tried and tested formula for a so-called minnow to succeed at the European championship.
Whether it is Greece's victory at Euro 2004, Denmark's success in 1992 or Iceland's run to the quarter-finals at Euro 2016, the similarities between successful smaller countries and their approaches seem striking.
Iceland, who ended England's tournament hopes this week, are a perfect example of how a team which lacks star players or the technical ability to hog possession can still thrive on the big stage.
Jointly coached by experienced Swede Lars Lagerback and Icelander Heimir Hallgrimsson, they do not try to dominate the ball against opponents stocked with technically superior players.
In fact, they have the lowest possession statistics of any side at Euro 2016 (35 per cent), the second-lowest pass completion percentage (72 per cent) and have attempted the fewest number of passes (907).
These are often seen as the metrics that define the best teams. Prior to the quarter-finals, world champions Germany, for example, topped Euro 2016's possession table (64 per cent) and had attempted the most passes (2568).
So what are Iceland, and a host of successful minnows who have gone before, doing instead? Part of the answer is they are rigidly disciplined in their defensive duties and meticulous in their preparation.
Iceland defender Haukur Hauksson said that coach Lagerback becomes almost monomaniacal in the build-up to a game, drumming tactical instructions into his players.
"It's almost like he's brainwashing us with his tactics," Hauksson said prior to the England clash.
German Otto Rehhagel, who led Greece to their triumph against the odds, had a similar dedication to tactical discipline.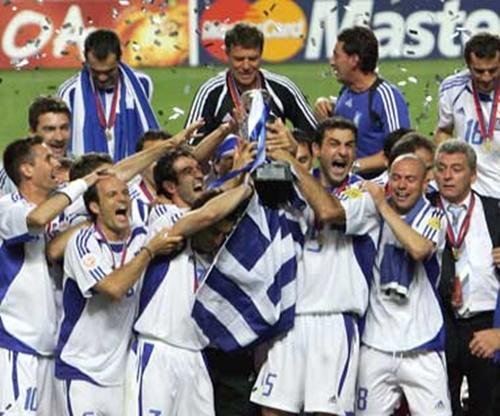 IMAGE: Members of the victorious Greece team celebrate . Photograph: Getty Images.
Greece went into the tournament as rank outsiders with a completely unsung squad, but they played to their strengths -- a solid defensive unit, guarded by the prowling presence of combative midfielder Theodoros Zagorakis, and a willingness to work hard all over the pitch.
Rehhagel set out to frustrate opponents until they made a mistake and Greece won all of their knockout matches 1-0, including an upset of hosts Portugal in the final.
They, like Iceland now, were committed to playing on the counter attack and making the most of limited opportunities.
Greece had 21 shots on target, around half the amount of all the other three sides to reach the 2004 semi-finals.
Similarly Iceland have had the fewest attempts on goal of any of the teams left in Euro 2016 with 29. They have still, however, scored six times. Belgium, by contrast, have had 84 attempts to score eight.
Tactical and defensive discipline, however, seems to be only part of the story behind a successful minnow.
They also seem to share an almost fanatical team spirit and a Stakhanovite work ethic.
Perhaps counter intuitively, Albania boss Gianni de Biasi, whose side were knocked out in the group stage, suggested having a smaller pool of players might be an advantage.
"It's more difficult when you don't have so much time together to try to develop as a team and individuals, but perhaps, for the smaller countries, it is easier to create that spirit," he said.
His point is seemingly that a lack of playing resources can make the squad and even the team almost self-selecting, creating a tighter, more cohesive group.
There are parallels with how Leicester City shocked everyone to win the English Premier League, shunning possession in favour of direct, counter attacking football and starting fewer players than any of their title rivals.
Iceland have used the same starting 11 in all four of their matches. Compare that to their last-16 victims England, who started a different team in three of their four games.
While it remains an almost unquantifiable quality, an elevated team spirit was certainly present in Denmark's victory at Euro 92.
The Danes had failed to qualify for the competition but were invited to replace Yugoslavia at the last minute due to the conflict that was tearing that country apart.
Their only real star player Michael Laudrup had decided against taking part, but they stunned everybody by reaching the final where they beat then world champions Germany 2-0.
They had a solid core of players, who had been or were at Brondby, the first Danish club to turn fully professional and described by former keeper Peter Schmeichel as pioneers in the Danish game.
Like Greece 12 years later, Denmark were able to play with the freedom that came from being nobody's favourites. This pressure-free environment is also helping Iceland.
"We want to win but we don't absolutely need to. That is a big benefit for us," Iceland co-coach Hallgrimsson said after downing England.
The pressure will certainly be off when Iceland, a country of 330,000 people, face France in the quarter-finals on Sunday.
Should they pull off another upset, it would seemingly be due to a blueprint that has served them and so many other smaller countries well.