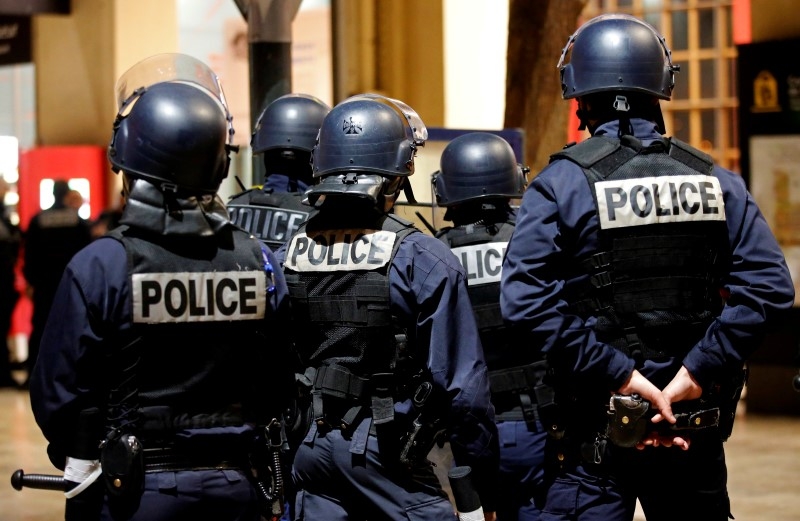 IMAGE: French riot policemen attend a drill at the Marseille railway station, France, May 4, 2016, in preparation of security measures for the UEFA 2016 European Championship. Photograph Jean-Paul Pelissier /Reuters.
The swollen Seine receded on Sunday, but between flood damages, strikes and terror fears, France was firmly stuck in the doldrums just five days before the Euro football tournament.
Thick grey clouds hung over Paris as the muddy Seine slowly inched back from a three-decade high that saw it burst its banks in places, forcing the Louvre and Orsay museums to shut their doors to evacuate priceless works.

But while crowds thronged to photograph the river -- Paris's star attraction this weekend -- residents in nearby towns picked through their devastated homes, with insurers estimating damages of at least 600 million euros ($681 million).

Several towns remained on alert after the floods left four people dead in the Paris region this week, and over 11,000 homes were without electricity. In Paris several metro stations remained shut as a precaution.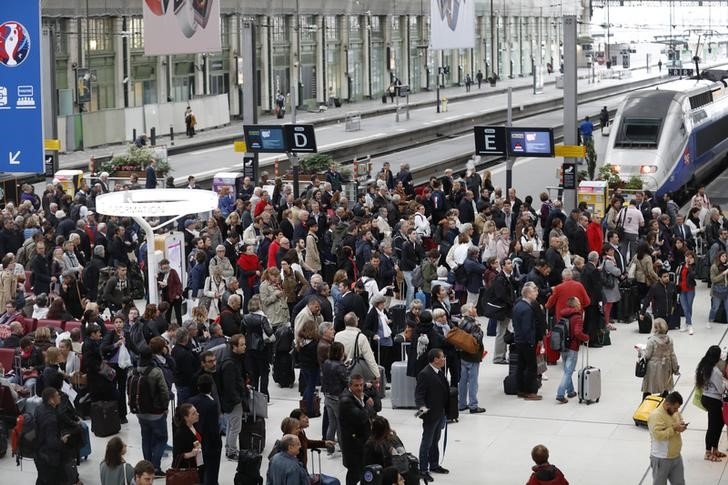 IMAGE: Passengers wait for a train at Gare de Lyon railway station in Paris, France, during a national railway strike by Frenchrailway unions workers from the France's rail-operator SNCF, June 2, 2016. Photograph: Charles Platiau /Reuters.
Ground down by a series of attacks last year, months of often violent anti-government protests, and transport chaos due to strikes, the floods were the last thing the weary French needed.

"It is really bad, we don't need this now with all the constant strikes, the Vigipirate plan," said bank employee Pascal Derby, 62, referring to the high alert imposed after the terror attacks in January and November last year.
"All the authorities are stretched -- the police, firemen -- we need to honour them. It is a nightmare," he told AFP, gloomily watching the swirling waters of the Seine.
Party despite everything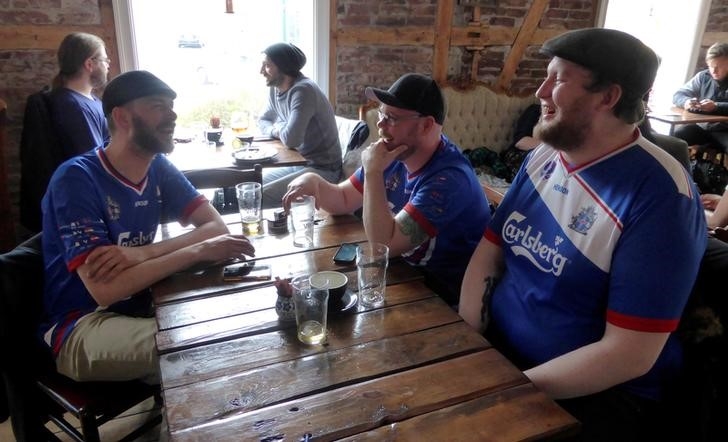 IMAGE: Ireland supporters have a drink in a cafe. Photograph: Gwladys Fouche/Reuters.
France's list of almost biblical woes has coincided with what is supposed to be Europe's biggest football celebration-- with 1.5 million visitors expected for the one month championship which starts on June 10.

"A party despite everything ..." headlined the Sunday newspaper "Journal du Dimanche".

France is rolling out unprecedented security for theevent, seven months after 130 people were killed in a series of terror attacks in Paris -- which included three suicide bombings at the national football stadium.

The country is still under a state of emergency and considered a prime target for the Islamic State group, and some 90,000 security forces will protect stadiums and fan zones.
However Paris' overstretched police this week asked government to shut a massive fan zone in the capital when matches are played in the city's two stadiums.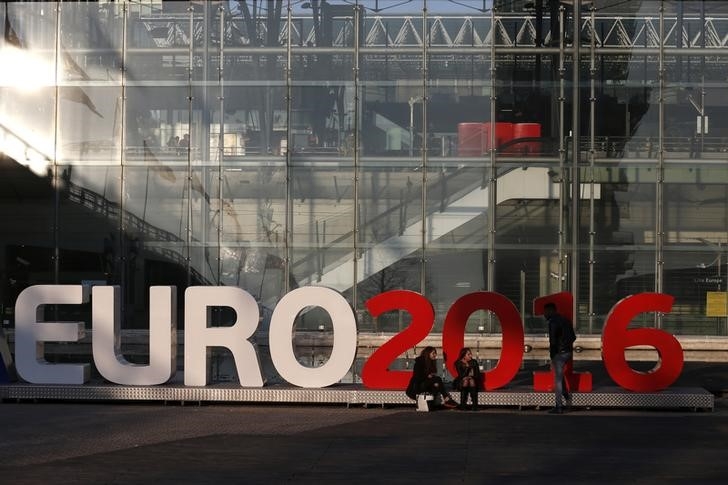 Police chief Michel Cadot cited the "exhaustion" of officers and the threat of terrorism, in a letter to Interior Minister Bernard Cazeneuve seen by AFP.

Meanwhile there was no end in sight to five days of train strikes that created massive headaches for travelers on the back of a week of industrial action that left the French queuing for petrol.

Prime Minister Manuel Valls on Saturday urged train operator SNCF to call off the strike in solidarity with the French during the floods.

"This strike is already incomprehensible, but in the regions affected (by floods), it is completely incomprehensible," he said on a visit to the flooded central town of Crosne.