IMAGE: Italy's defender Giorgio Chiellini. Photograph: Darrin Zammit Lupi/Reuters.
Italy defender Giorgio Chiellini has described Spain as Italy's bogey team and urged their fans not to dream too much.
Italy face the titleholders on Monday in their second round match in Paris in a rematch of the 2012 final in which Spain cruised to 4-0 win.
Spain also beat Italy on penalties in the Euro 2008 quarter-finals after a 0-0 draw and again at the Confederations Cup semi-final in Brazil in 2013. Another meeting in a group match at Euro 2012 ended 1-1.
"Spain have been our bogey team since 2008 which is when their winning cycle began," Chiellini told a news conference.
"That match in Vienna was very evenly balanced with very few chances for either side, and Monday will also be like that, a very close game where the details can make all the difference. There is reciprocal respect."
"In Fortaleza (Brazil), we deserved a little more and it was disappointing to be eliminated on penalties."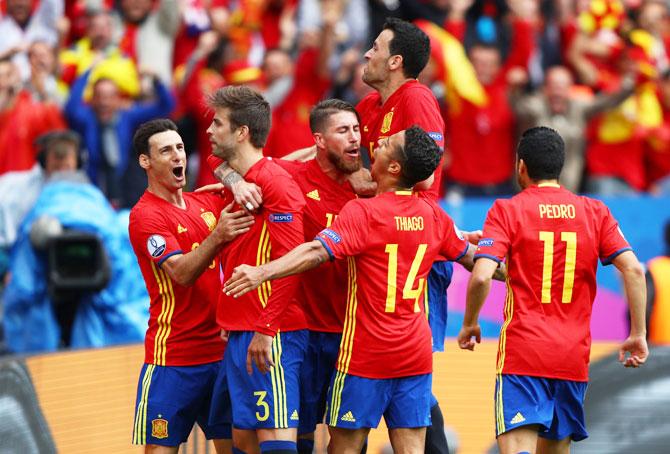 IMAGE: Spain's players celebrate Gerard Pique's (2nd from left) winning goal against Czech Republic during their Euro match. Photograph: Ian Walton/Getty Images.
Chiellini said that in final in Kiev, Italy had not recovered from their semi-final win over Germany.
"That was the only time we didn't give them a good game," he said.
Chiellini, the leader of a defence widely regarded as the best in the competition, said he would have preferred the two sides to meet later in the tournament.
"It's a shame we have to meet as early as the round of 16. Some ties are more difficult than others, but we already knew that."
"We are preparing for the match as meticulously as we always do with (coach) Antonio Conte," he added. "Nothing changes, whether the opponents are Malta or Spain."
"We are going to face a team which has quality and which is almost unbeatable on paper but I'm sure that, with a cautious game and by focusing on our qualities, we can do well."
Italy won their group ahead of Belgium, Ireland and Sweden but Chiellini remembered that the squad had left Italy amid an atmosphere of doom and gloom.
"Now everyone says they believe in Italy, but at the start nobody believed in us," he said. "Now, the supporters are dreaming, and it's great that we have made them do that, but we must remain aware of the reality."