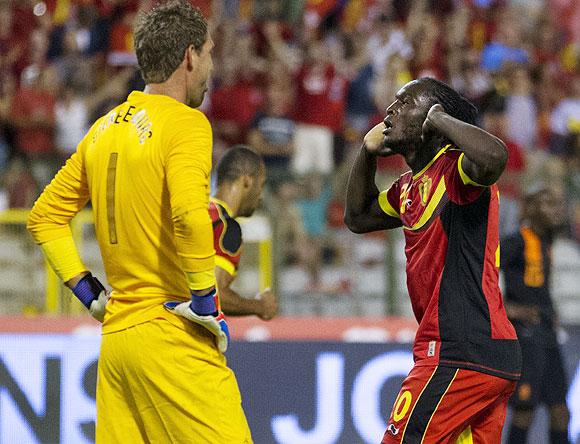 IMAGE: Romelu Lukaku of Belgium (right) celebrates as Netherlands goalkeeper Maarten Stekelenburg looks dejected during their soccer friendly at the King Baudouin stadium in Brussels Photographs: Michael Kooren / Reuters.
Everton's Romelu Lukaku has described himself as one of the most gifted strikers in world football after scoring 25 goals in all competitions for his Premier League club last season.
Despite his form in front of goal Everton finished 11th and sacked manager Roberto Martinez, although Lukaku still rates the season as his finest in terms of individual achievement.
"I'm among the best. That's good. Personally I am happy," Lukaku said in an interview with the June edition of World Soccer magazine. "I did expect to produce a season of this calibre."
The 23-year-old is part of Belgium's squad for this month's European Championship in France, where his team play Italy, Ireland and Sweden in Group E.
Lukaku, who may face club mates Seamus Coleman, Aiden McGeady and James McCarthy when Belgium play Ireland on June 18, said the prospect of going head-to-head with them at the Euros had been part of the dressing room banter at the club.
"They are happy to be going to France and warn me that they are going to make life difficult for us. I jokingly reply that we won't be easy meat," the Belgian said.
Eveton have yet to appoint a replacement for Martinez.