The presence of German chancellor Angela Merkel at her country's Euro 2012 quarter-final against Greece in Gdansk on Friday could upset the underdogs in more ways than one.
-Smoking helps me think, says Santos
Not only is Merkel deeply unpopular in Greece for the tough austerity measures she has imposed on them in exchange for its international bailout, she is also considered Germany's lucky charm.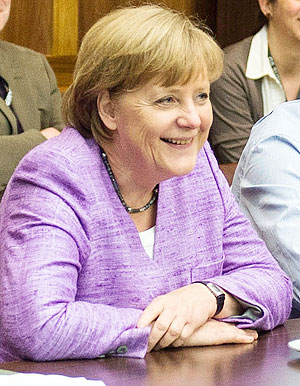 Merkel has attended high-profile matches before and was even photographed with bare-chested midfielder Mesut Ozil after a Euro 2012 qualifier against Turkey.
The last thing Greece need is for luck to be against them, especially with the country in the midst of economic crisis and political upheaval.
They have never beaten Germany and now would be the ideal time to do so in order to cheer up the public back home and give them hope that Greece can repeat their amazing run to the European Championship crown in 2004.
The chances are slim to say the least with Germany having won all three matches in the toughest of the four groups while Greece are without their inspirational captain Giorgos Karagounis, suspended for picking up two yellow cards.
Photographs: Guido Bergmann /Getty Images