Ethiopian Atsedu Tsegay demolished the course record to emerge triumphant in the elite men's category, while Florence Kiplagat led a Kenyan clean sweep in the women's event of the Airtel Delhi Half Marathon in New Delhi.
Tsegay stopped the clock at 59.12 minutes to lower the course record by three seconds set by countryman Deriba Merga in 2008.
He was followed home by Kenyans Geoffrey Kipsang in 59.30 and Wilson Kiprop (59.49). Kipsang, the fastest athlete of the year (58.54) was coping with the loss of his 17-year-old brother Elais, who passed away on Friday and overcame his grief to run a brave race, but was thwarted in his bid to win the race by Tsegay.
The women's race, also chasing a course record, failed in its bid due to a slow start, but picked up in the later stages and was won by Kenyan Florence Kiplagat in 68 minutes.
Florence, the 2103 Berlin Marathon winner, led a Kenyan sweep, with Gladys Cherono finishing second in 68.03 and Lucy Kabuu taking third place in 68.10.
The men's and women's winners were richer by $25,000.
The Indian category was won by G Lakshmanan and Preeja Sreedharan among the men and women respectively. Lakshmanan, representing the Army, finished in 64.44, followed home by Kheta Ram in 64.49 and Ratti Ram Saini in 64.51.
Lakshmanan, finished 15th overall, with Kheta Ram (16th) and Ratti Ram (17th).
Preeja clocked 80.04, followed home by Kavita Raut (80.06) and Lalita Babbar (80.09). The winners took home Rs 2.5 lakh each.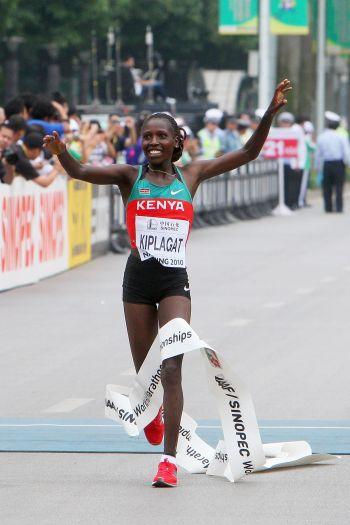 A total of 31,000 plus runners participated in the event, which offered a total prize money of USD 210,000.
The men's race began at a fast clip and was taken through the first 12kms below the course record pace of 2.48 mins per km by pacers Vincent Rono and Timothy Kiptoo.
After the pacemakers dropped out around the 12km mark, the pace fell a bit as the leaders assessed each other, before Atsedu took control.
The lead bunch of Tsegay, Kipsang, Kiprop and Kipkemoi were still running strongly and together, before the Ethiopian ran the 16th kilometre in 2.45 to open up the lead.
Both Kipsang and Kiprop pushed hard to keep up with Tsegay till the 18th km, who kept his foot on the pedal and gradually pulled away to win convincingly.
Defending champion Edwin Kipyego finished a disappointing eighth.
Tsegay, the fastest athlete of 2012, had a poor run at this event last year, finishing 20th and suffering an ankle injury, that kept him out of competition for nearly a year. On Sunday he proved that he is back to his top form.
"I am happy to win the Airtel Delhi Half Marathon as I did not run for nearly a year because of an ankle injury. This is only my second race post the injury and am happy with my performance," Tsegay said.
"I paced till 12 km and at 15 km I realised that I have a huge lead and will win the event. The climate was extremely cold so initially it was a little difficult to adjust to the conditions," he added.
Kipsang was satisfied with his effort given that he was dealing with grief as well.
"This was a tough time for me, as I lost my younger brother two days ago. I was heartbroken, but I decided to stay and compete. I am happy with my performance and I would like to dedicate this race to my younger. While running, I only kept telling myself that I need to run and finish this race for my brother," said Kipsang.
The elite women had a slow start as they did not keep pace with pacer Alice Kimutai, but picked up the speed and went through the 5km mark at 17.10, much behind the course record.
The next 5 kms were faster and the 10km mark was passed through in 33.17, at which point pacer Kimutai dropped out. It was a bunch of six women that went into the lead, among them Lucy Kabuu, Florence Kiplagat, Meseret Hailu, Gladys Cherono and Wude Ayalew.
Florence further pushed the pace to take the group through 15km in 49.12 before Meseret dropped back at the 16km mark.
Indian men's winner Lakshmanan was content to remain behind leader V L Dangi for a major part of the race, before breaking away in the last two kms to win.
"It's a good feeling to win, especially since I do not really prepare for long distance event. I only prepare for 5 km, 10 km and Asian track events. The weather conditions here were similar to our training camp in Bangalore and that really helped me. I had not expected to win with such good timing and I finished almost two minutes faster than the time I had set in mind," said Lakshmanan.
The Indian women's race was a very slow one, with the leading athletes content to bide their time. Preeja broke away in the last km to lead a sprint finish ahead of Kavita.
"I am very excited and happy to win the Airtel Delhi Half marathon. This is the first time I am participating in this event and the conditions here were the same as our camp in Munnar. I think, that was an advantage for me," said Preeja.
As usual the race witnessed the participation of a large number of enthusiasts and celebrities, among them Anil Ambani, N Chandrasekharan (CEO & MD, TCS), and actor Rahul Bose.
Image: Florence Kiplagat
Photograph: Wang Zhao/Getty Images