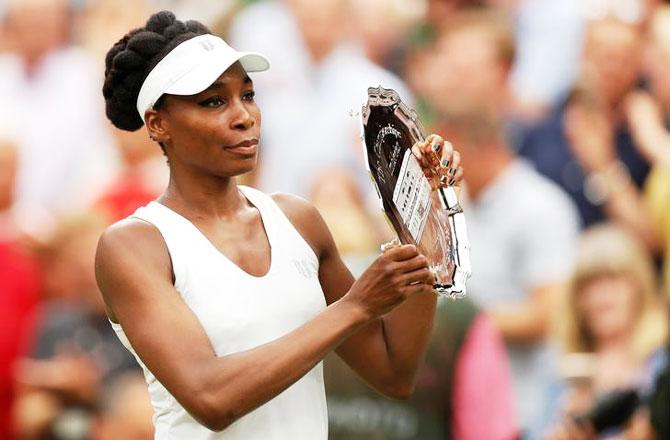 IMAGE: Venus Williams with the Wimbledon runner-up trophy after losing the final on Saturday. Photograph: Matthew Childs/Reuters
Venus Williams ran out of steam in her Wimbledon final defeat by Spain's Garbine Muguruza on Saturday, losing the second set 6-0, but she graciously refused to blame her loss on tiredness.
After producing, as she has done throughout the tournament, clean-hitting and focused tennis, Williams failed to convert two set points at 5-4 and dramatically lost the next nine games as her hopes of a sixth Wimbledon singles title evaporated.
The manner of her defeat inevitably led to speculation that the 37-year-old may have had a physical problem that stopped her from competing with the effectiveness she had shown in earlier rounds.
In 2011, Williams was diagnosed with Sjogren's syndrome, an autoimmune disease that causes fatigue and joint pain but asked, at the post-match news conference whether that was a factor in her loss, she deflected the question, clearly not wishing to take away credit from her Spanish opponent.
"She played really well. I mean, she played top tennis, so I have to give her credit for just playing a better match," Williams said.
"I've had a great two weeks. I'm looking forward to the rest of the summer," she added.
Later the American was asked how to explain the huge difference in the levels of her play in the first and second sets.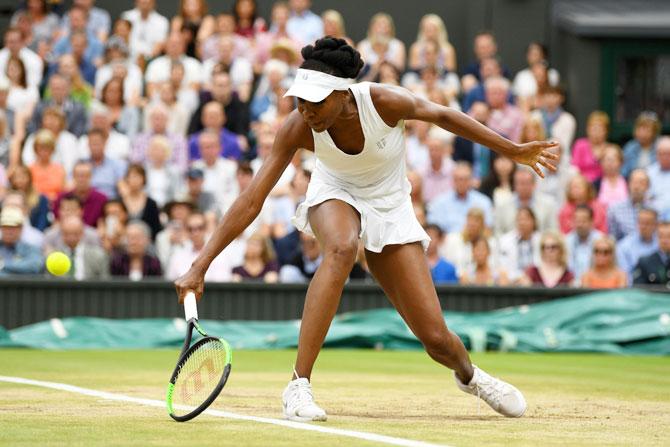 IMAGE: Venus Williams plays a backhand shot. Photograph: David Ramos/Getty Images
"There's errors and you can't make them. You can't make them. I went for some big shots and they didn't land. Probably have to make less errors," she said.
But was tiredness also a factor?
"I think she played amazing. She played amazing."
Williams offered little in the way of comment or explanation for her defeat in her short answers but did say her run to the final, which included a semi-final win over Britain's Johanna Konta, had taken a lot of effort.
"Every tournament is different. Every tournament's different. This is most certainly a very different tournament," she said.
"It took a lot of effort and what-have-you to get right here today. So this is where I want to be every single major," she said.
Williams had arrived at Wimbledon under something of a cloud following her involvement in a fatal car accident.
After winning her first-round match against Belgian Elise Mertens in straight sets, she broke down in tears in her news conference saying the incident had been "devastating".
Last week Florida police said Williams was acting lawfully when she drove her sports utility vehicle into an intersection before a fatal crash with another car on June 9.
Jerome Barson, 78, who was a passenger in a sedan that collided with the vehicle Williams was driving, was fatally injured. His family filed a wrongful death suit against Williams.